With Pending Acquisition, Raven Industries Sparks Record Levels of Charitable Giving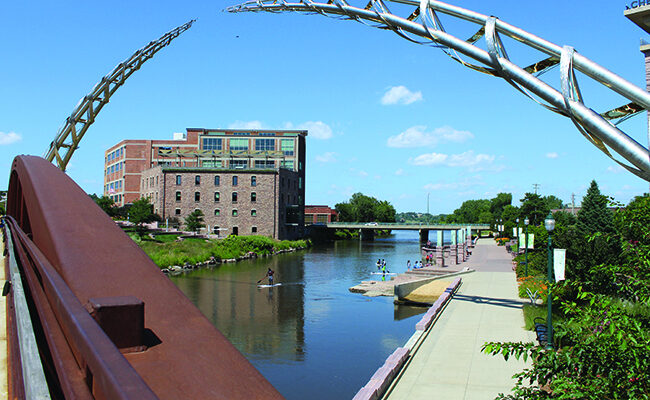 Raven Industries has long been known for its corporate giving. But today, the company's philanthropic investment in the Sioux Falls community just reached a new level.
Since June, Raven shareholders have donated nearly $12 million in shares of the company's stock to charitable funds held at the Sioux Falls Area Community Foundation. Grants from these funds will provide critical support to local nonprofits and will help ongoing and future efforts to enhance and enrich our community.

Community has always been important to Raven, and it's been important to our investors, so it's no surprise that our shareholders are choosing to donate shares of their stock to help strengthen this special place we all call home. Sioux Falls has been our home since 1956. And even as Raven begins a new chapter, our commitment to this community and our legacy of giving and care will not change, it will continue on.

— Dan Rykhus, Raven CEO
By donating their stock, Raven shareholders are not only supporting their community, they're also implementing a tax-wise philanthropic strategy often utilized by those facing taxable events, said Mary Kolsrud, the Community Foundation's vice president for philanthropy.
Since the announcement in June of its sale to CNH Industrial, Raven stock has gained considerable value.
"From a tax standpoint, donating appreciated assets held more than one year, such as stocks and securities, not only allows someone to avoid capital gains tax, it also provides an immediate deduction for the fair market value of the asset," Kolsrud said. "So essentially, the donor receives a double benefit: they'll eliminate capital gains tax and they'll receive an immediate deduction of the fair market value of their asset."
From a philanthropic standpoint, Kolsrud said utilizing a donor advised fund offers the flexibility for donors to recommend grants to their favorite charities from the fund when the time is right.
"Donor advised funds really allow donors to develop more strategic giving strategies," she said. "Many of our donors utilize insights and analysis provided by the Foundation to inform their giving. From there, they recommend grants to their favorite organizations and causes to help address the needs and opportunities throughout our area."
For those interested in donating shares of Raven stock, Kolsrud said time is of the essence. In order to avoid capital gains and achieve the maximum tax benefit, the stock must be donated and received in a Community Foundation account before the offer of the sale is accepted, she said.
In the case of Raven Industries, that date is Wednesday, Sept. 15 — that's when shareholders will meet to officially vote on the acquisition. Assuming it's approved, and subsequently cleared by regulators, the deal is expected to close in the fourth quarter.
Seeing Raven's commitment to community live on through its shareholders has been a special thing to witness, Kolsrud said.
Raven Industries got its start in Sioux Falls and, over the course of 65 years, grew into a successful, highly diversified technology company — a community-focused company that made giving back core to its culture. For the Community Foundation, it's been an honor to help Raven shareholders continue that extraordinary legacy of giving and care, for the benefit of our community.


— Mary Kolsrud, Vice President, Philanthropy
The Community Foundation advises everyone to check with their tax advisor before making any charitable gift.