Together, We'll Get Through This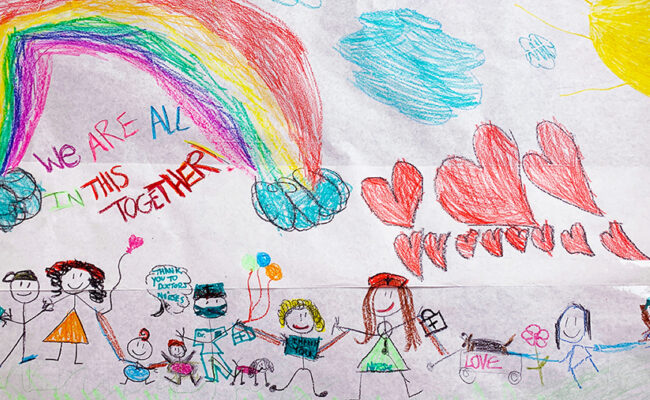 Dear Friends,
In my family, few things are unanimous.
But one thing that is? My family's uniform disdain for my favorite movie. Since they love me, they agree to one annual screening for dear 'ol dad, however, we barely make it through the opening credits before my wife and kids start wisecracking about how corny my beloved favorite movie is.
I guess it's a good thing "It's a Wonderful Life" is only in season at Christmas.
However, as much as they claim to hate it, my family grows more and more quiet as the plight of George Bailey climbs to a climax. Even the most cynical Patterson is affected by the closing scene when nearly every member of the Bedford Falls community parades through the Bailey's living room to offer what they can to help George. He meant so much to all of them; they weren't about to let him fail.
Sioux Falls is experiencing its own "It's a Wonderful Life" moment. As the COVID-19 pandemic began sweeping through our area, closing businesses and schools, upending livelihoods and schedules, and bringing the unexpected structures of social distancing, the Sioux Falls community did not sit idly by. Instead, we did what we do best: we collaborated, pooled our resources, and mobilized for the benefit of our neighbors.
The Community Foundation worked with Mayor Paul TenHaken to establish the One Sioux Falls Fund.
The fund supports employees who have been unexpectedly laid off because of COVID-19 avoid evictions. Within hours of opening the fund, area businesses and individuals began pledging their support in a truly amazing outpouring.
The Empower Church Network also came forward with plans to tackle the challenge of distributing food and hygiene supplies to those in need throughout the city. The Community Foundation helped the group's leaders establish the Corona Help Sioux Falls Fund. Once again, you — the community — showed up. More than 300 donors contributed to the fund in just a few days.
The last few weeks have made it clear why that final scene in "It's a Wonderful Life" quiets down my rowdy family. A community rallying together in hard times is awe-inspiring and gratitude-building. We're in this together and together we'll get through it.
But we aren't through it yet. Many needs are still unmet. The number of applicants to the One Sioux Falls Fund grows each day. If you would like to support either of these funds, please contact the Community Foundation at 336-7055 or give online.
Sincerely,
Andy Patterson
President