Foundation Awards $50,000 to Helpline Center's Network of Care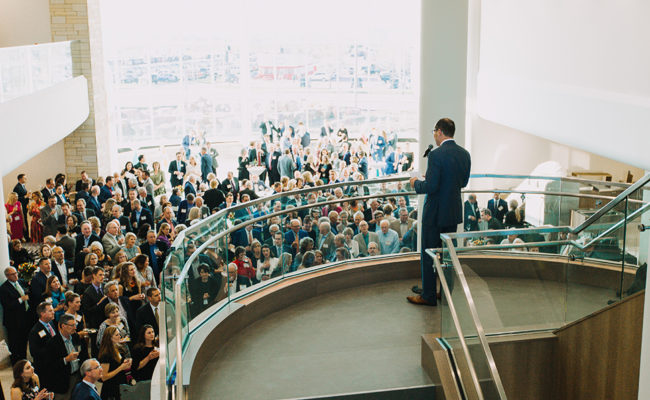 The Sioux Falls Area Community Foundation has selected the Helpline Center's Network of Care as the recipient of its 2019 Initiative Grant, a $50,000 investment in a program officials say "has the power to revolutionize the nonprofit landscape in Sioux Falls."
Calling Network of Care a landmark endeavor "that addresses both current and future needs in our community," officials formally presented the grant to Helpline Center CEO Janet Kittams last night in front of more than 300 guests at the Community Foundation's annual fundraiser, City Blossom.
About Network of Care
Launched in 2016, Network of Care connects local nonprofits electronically through a customized, shared database. Once a community member seeks help from a participating nonprofit, the services he or she receives can be viewed by partner agencies in real time. With a focus on client privacy, Network of Care's mission is to provide data and analysis designed to help nonprofits more efficiently serve those in need, and to help make smarter referrals for continued service.
Thanks in part to the Initiative Grant, Network of Care will soon add new reporting features for additional data analysis – enabling community leaders to identify trends, emulate practices that are working and rethink techniques that are falling short.
"At the Sioux Falls Area Community Foundation, we believe a thriving community is one where people and families feel safe and have equal access to the resources they need for their health and well-being. We also believe that having strong, quality data is key to making that happen. As we work to build a brighter tomorrow, the analytics and connections our nonprofits will be able to access through Network of Care will ensure that we're offering the right programs at the right times for our neighbors in need. It's why we are proud and honored to invest in this important work — work that will no doubt impact our community today, and in the future," said Patrick Gale, vice president, community investment.

Helpline Center CEO Janet Kittams called the grant a game-changer.
"We're incredibly grateful to the Community Foundation and its visionary donors for this amazing support, "Kittams said. "Working together, we will indeed create a better tomorrow for individuals and families throughout our area."
About the Community Foundation's Initiative Funding Grant
Presented annually, the Initiative Grant is supported by the Foundation's Community Fund, used to support nonprofits and causes whose work addresses current and future community needs.
Proceeds from City Blossom, the Foundation's annual fundraising event, directly support the Community Fund.
Since its inception 2008, City Blossom has added nearly $2.5 million to the Community Fund endowment, enabling the Foundation to help drive important and meaningful change throughout our area. Recent Initiative Grant recipients include:
Sea of Goodwill – With Initiative Funding support, the Community Foundation formed a coalition to work on meeting the needs of deployed service personnel and their families. In addition to monthly meetings of various organizations, a portion of the Helpline Center's website was dedicated to helping military families find the assistance they needed.
Mobile Summer Backpack Program – A $50,000 grant in 2017 helped Feeding South Dakota implement the Mobile Summer Backpack Program to bridge the food gap some children experience during the summer months. Each week the program delivered an average of 850 backpacks or 3,400 meals to schools, churches, and youth centers throughout the Sioux Falls.
Call to Freedom – A $50,000 grant in 2018 provided the resources to invigorate the East River Human Trafficking Taskforce, a collaboration of service providers, youth correction services, state's attorneys' offices, and law enforcement agencies that work together to create a victim-centered approach.
---
Scott Christensen, board chair for the Sioux Falls Area Community Foundation, addresses attendees of City Blossom, the Foundation's annual fundraiser, held on Thursday, May 2.