Next-Gen Philanthropy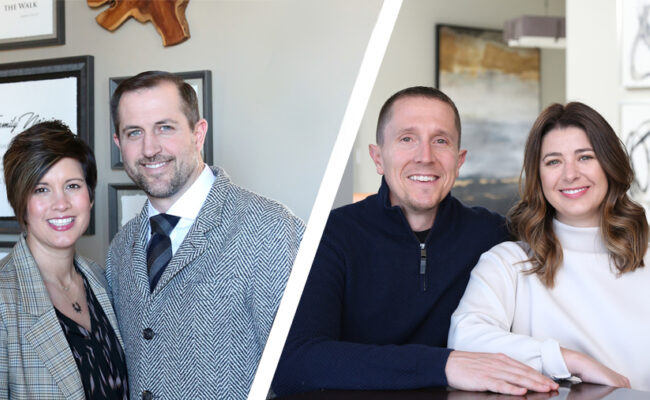 Gen Xers and Millennials are steadily becoming a powerful force in philanthropy. And while many of these younger donors say their charitable giving is inspired by their parents and grandparents, their approach to philanthropy is uniquely their own and distinctively modern. It's philanthropy on their terms: entrepreneurial, personal, mission-driven, community-focused, data-centric, investment-minded, strategic and responsive.
Their approach to philanthropy, and their desire to ensure their giving is both meaningful and impactful, is why more and more younger donors are choosing to partner with the Community Foundation to help build a brighter tomorrow.

Generation X and Millennials are characteristically optimistic, interconnected and tech-savvy. They're informed and aware, active and engaged in their communities, enthusiastic about the possibilities and motived to help drive positive social change.

They're also busy. Like, crazy busy. Even amid a pandemic, these generations routinely count time as something they're consistently short on due to the growing and changing demands of work, family and other commitments.
"As such, when it comes to their charitable giving, Gen Xers and Millennials want easy access to insights and information about how and where they can make a difference. They want technology that allows them to manage their giving anytime, from anywhere. And they want to ensure their charitable giving packs a punch — that it drives meaningful, measurable social impact," said Mary Kolsrud, vice president for philanthropy.
As giving styles and motivations have changed and evolved through generations, Kolsrud said the Community Foundation continues to evolve as well.
"The reality is, giving has never been a 'one-size-fits-all' model; it's a deeply personal act inspired by a variety of factors. That's why we're committed to working with our donors to create customized philanthropic strategies that align with their passions, values and their stage of life. And as a result, collectively, as a Foundation — as a community of donors — we're making an even greater impact on the community we all call home."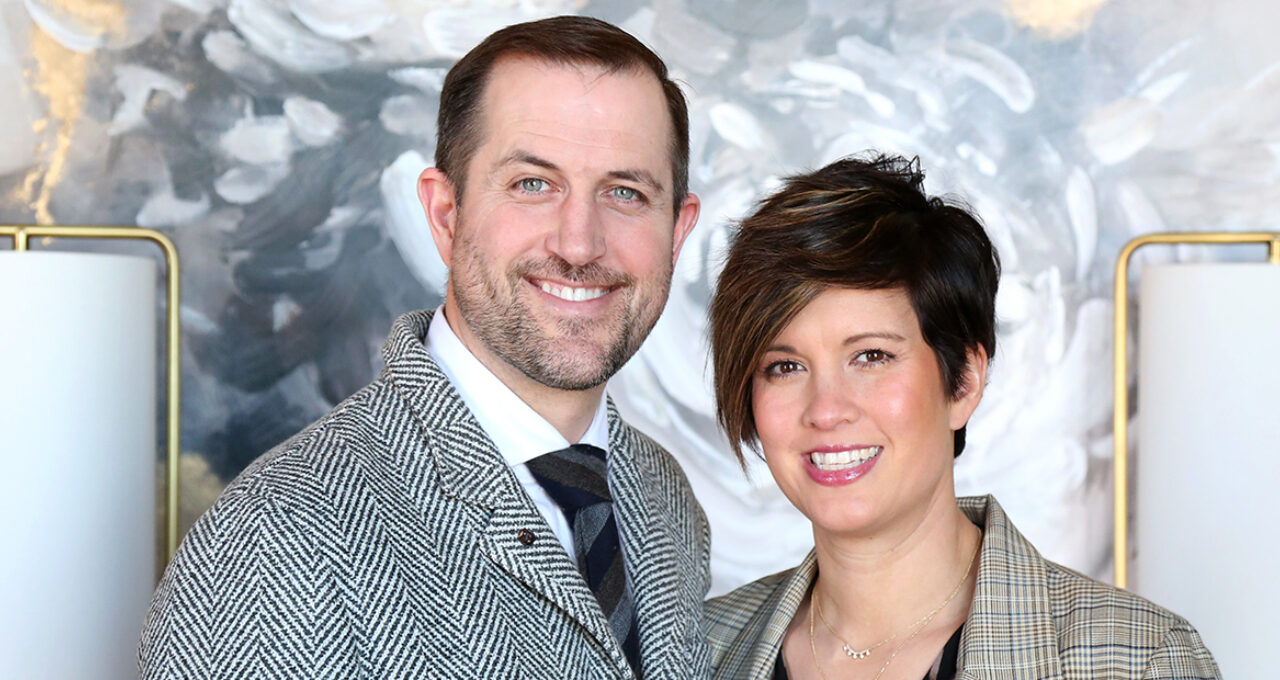 'It's made living out our mission so much easier for us'
Between work, raising four young children and professional and church commitments, Ben and Leah Wiener are busy from sunrise to sunset. So a few years ago, these millennials pushed the 'pause' button to re-evaluate their priorities.
"I can still remember when it really hit me," Ben said. "In my work, I've spent a lot of time on goal setting and mission and vision and quarterly reports. You're constantly planning, tracking and preparing. Then you get home and, we just didn't have the same commitment to intentionality and excellence. I realized, 'wait a second, something needs to change.' We realized we needed to have much more focus on who we are as a family, what our mission is and how we're going to raise our kids."
"So we went through an exercise where we spent a lot of intentional time really discussing who we are, what we want our family mission to be, and the imprint we want to leave."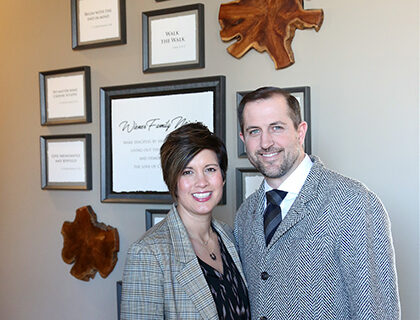 The result, he said, was the development of a family mission statement built around the couple's shared core values — values they seek to live out each day and pass on to their children.
At the center of those values, Leah said, is giving. "Having a generous heart," she said. "We know that all we have is the Lord's, and we know that we've been blessed. So we're committed to giving back to others, whatever that looks like — whether that's supporting someone in prayer, giving of our resources, giving our time or serving others."
Their interest in giving back eventually led the couple to consider establishing their own private family foundation, however, after investigating the legal and administrative requirements involved, they found a better fit working with the Community Foundation.
"To go through the process of setting up a foundation and doing all the administrative work that's required, all the record-keeping, well, the idea (for a private foundation) just sat in a folder for a long time," Ben said. "Then, we heard and learned about the Foundation, where so much of that work is completed and where the Foundation itself is able to do so many other great things in the community, it was just a no-brainer. It's made living out our mission so much easier for us. And it's just really complemented what we want to do as a family in terms of giving."
'We can see the returns, and they're huge'
Ryan and Emily Spellerberg represent the Gen X and Millennial generations. About three years ago the couple "made a decisive plan for what percentage of our income we were going to give," Ryan said.
Seeking a partner to help simplify and maximize their giving, the Spellerbergs turned to the Community Foundation to establish a donor advised fund, a giving vehicle that "operates a lot like a checking or savings account just for charity," Kolsrud said.
"Donor advised funds are popular because they allow an individual or family to make an up-front tax-deductible contribution. But they also offer the flexibility for the donor to recommend grants to their favorite charities from the fund when the time is right."
For the Spellerbergs, having a donor advised fund allows them to provide both ongoing and needs-based support to the causes and organizations they care deeply about.
"We have some organizations that are near and dear to us that we give to regularly, like the American Cancer Society and the Humane Society, but we also like to be reactive to needs in the community," Emily said.
After serving on a grantmaking committee for the Community Foundation last year, Emily said she was able to see first-hand the pandemic's devastating impact on local nonprofits — from decreased donations to fewer volunteers to growing and changing demands for services.
"I realized there were things we could do that would really hit home for a lot of people in our community — things that also aligned with our giving goals," she said. "So we were excited to help make an impact."
Impact, indeed.
A recent grant from the Spellerberg's donor advised fund to the Sioux Falls Hope Coalition, a nonprofit that provides free preschool for families in need, made it possible for more area kids to participate in the program.
For the Spellerbergs, the ability to manage their giving online, anytime, through the Foundation's online donor portal, as well as having access to valuable insights has made the process of giving easy and efficient.
"I like the ability to go in and recommend grants (from our fund) online. We've set up some recurring grants, but we also like the flexibility to go in and recommend grants as needs arise," Emily said.

I like the insights we get from the Community Foundation. I think it helps us to be more strategic about where we're giving and where some opportunities are that align with our interests.

— Emily Spellerberg
We all find joy in giving. But the Spellerbergs said working with the Foundation provides a unique sense of fulfillment that comes from knowing they're part of a growing community of donors, each united in giving of themselves for the greater good. Joining together, their giving is amplified for greater impact.
"In our day jobs, there's a lot of focus on 'return on investment' — essentially, what are you getting out of what you're putting in? For a lot of these giving opportunities, we can see the returns, and they're huge — not only to the individuals served by these organizations, but also to our community over the long term," Emily said.
'Helping to care for one another'
For both the Spellerbergs and the Wieners, the word 'philanthropy' represents far more than just charitable giving. It's also about caring for one another through service and volunteerism — all of which are ways of investing in a brighter tomorrow for future generations.
"I think part of being in a community is helping to care for one another — however that makes sense for you as an individual," Emily said. "We all have different skills and resources to give, so it's making the most of what we have. Sioux Falls has been really good to us — we're both in positions we love, working for organizations we really respect. So we're always looking for how we can pay that forward and how we can help the future of a place we love and that we've called home for more than a decade."
"It feels good to give — to know that you're making an impact in your community," Ryan said.
The Wieners agree. "We've had incredible opportunities. And for us, we've taken some risks and the ball's bounced our way a few times. So now, the chance for us to be that — to be the ball that bounces the right way for someone else — that's really fun for us to be able to experience that as a couple and as a family," Ben said.
Support for Today and Tomorrow
In working with the Foundation to create their philanthropic strategy, the Wieners made the decision to establish a donor advised fund and an endowment to support their giving goals.
"Endowments are funds that are invested to provide returns that replenish the dollars distributed to charity each year. This ensures endowment funds are 'forever funds,' established to do good in our community for generations over and over," Kolsrud said.
"For us it was a blend of having an eternal perspective but also knowing there are immediate needs that exist. We looked at the bigger picture and said 'we want to be responsive to the needs of today, but we also want something we can continue to grow every year so it can not only gain in value but also be that staple that we can pass on to the next generation,'" Ben said.
Today, the couple's donor advised charitable fund supports their responsive and recurrent giving while the B.L. Wiener Family Foundation, their donor advised endowment, will grow in perpetuity while providing annual support to charities today and in the future.
Creating and executing their philanthropic strategy with the Foundation, Ben said, has been seamless.
From top to bottom — whether it's the ease of the online platform or thinking about the big picture and the planning of the endowment, getting everything set up, getting our grant recommendations out as fast as possible — the Foundation has been so incredible to work with, making the process so easy. It's daunting to think about how to create your own foundation, so to have that framework already built out and established, and to have a team of people who are responsive, who are like-minded, who love the Sioux Falls area — it's really been a blessing.

— Ben Wiener
Leah agreed. "To be able to support opportunities is so rewarding for us, especially when we can do it in an anonymous way. That's the other part of this that's so nice — in working with the Foundation we have the option to remain anonymous in our giving," she said.

When it comes to giving back, both the Spellerbergs and the Wieners have a message for everyone: Get started.
"I think there's this perception that giving has to be at a certain amount. But really, the dollar amount doesn't matter. So don't let the enemy of comparison deter you from giving — from making an impact and a difference, and ultimately, from filling you with a tremendous amount of joy from impacting the lives of others," Ben said.
To learn more about how to create your own customized charitable giving strategy, contact us today at 605.336.7055.