Jeff Scherschligt Talks Philanthropy, Leadership and How He Set a Culture of Giving Back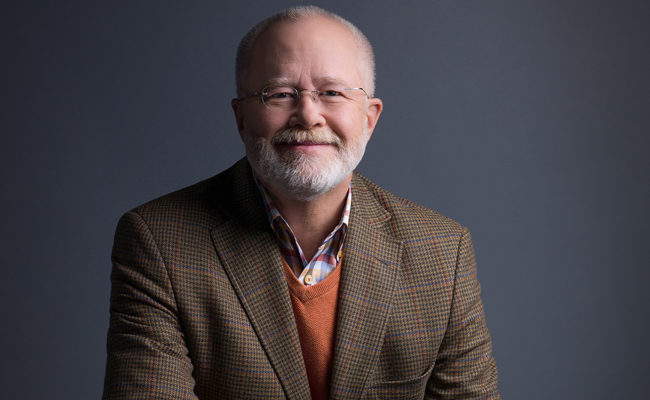 On Wednesday, April 10, Sioux Falls Area Community Foundation President Andy Patterson spoke to members of the 2019 Leadership Sioux Falls class about "Strength in Giving." Following his remarks, Patterson interviewed former SFACF Board Chair, philanthropist and local business leader Jeff Scherschligt about what inspires his giving, and his work to create a culture of giving back. Leadership Sioux Falls participants had a chance to ask questions as well.
Patterson: What inspired you to engage in philanthropy?
Scherschligt: (Laughing) Funny story. It was 1974 and I streaked across the floor of the Arena on a dare. That dare raised $267. I ended up donating that money to the YMCA here in town.
Looking back, my dad really set the example for me, involving me in the mainstays of our community – the United Way and the Chamber's Community Appeals Campaign. He really modeled giving back for me. It was great training to be part of the community and to give back and ultimately it led to my own giving philosophy – save 10 percent, give away five percent and use the remainder for your daily needs.
Everyone has their own passions and I think everyone should be involved and give back. The reality is we live in a community that does not have a state income tax, which means we don't have some of the social service supports found in other parts of the country.
Patterson: Can you talk about how your giving habits have changed over your lifetime?
Scherschligt: You know, at different times in your life you have different abilities (to give back). The idea of giving away five percent is a discipline that you can learn (and adopt) no matter what your income is. At this time in my life, I find more joy in giving than in buying stuff.
Patterson: What are your thoughts with regard to your own giving?
Scherschligt: There are so many immediate needs. My philosophy is to allocate 90 percent of my giving to current issues and 10 percent on the long term. I'm a happy giver. I want to teach everyone to be a happy giver, because doing so is so much bigger than ourselves. Giving should feel good."

Sometimes I equate giving to working out. Sometimes if you push yourself hard while you're working out, you hurt afterwards. But later that day, and the next day, you feel really good.
I think of giving like that. I'm going to give till it hurts because I think that's what philanthropy is all about.
Patterson: What projects have brought you the most joy?
Scherschligt: Certainly giving to the United Way. In addition, my hero is Teddy Roosevelt, so the opportunity to be involved in the creation of Good Earth State Park, our 13th state park – the only state park to be created during my lifetime. Giving to that project is a gift that will live on for generations.
I'm a big believer in public/private partnerships. I think of Great Bear and the River Greenway. These kinds of projects create advocacy and when people put up private dollars for a project, things get done.
For me personally, I'm not the visionary. I'm the guy that says 'grab it and get it over the goal line.'
I do believe that at the right times, you need to (invest in) big vision projects that inspire and encourage the entrepreneurial spirit in others.
Leadership Sioux Falls Participants: How did you inspire a culture of giving within your business?
Scherschligt: Leaders have a responsibility to lead by example. When I was at Howalt+McDowell, we made a commitment that five percent of our profits go to 501C3s. We really do try to set the culture that giving makes a difference in people's lives and improves the quality of life for everyone.
Leadership Sioux Falls Participants: What advice can you give with regard to giving of your time?
Scherschligt: Giving of your time is just as important (as giving of your resources). As you grow professionally, remember to think carefully about what you volunteer for and whether or not you can truly participate and carry through. It's important not to over-extend yourself. It's all about finding balance and prioritizing.