Honoring the Past, Looking to the Future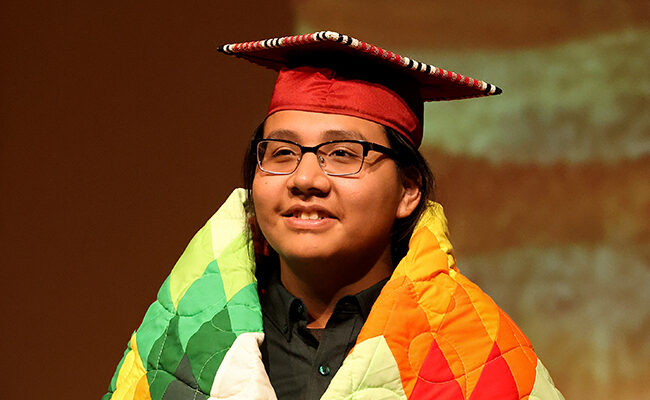 When graduating senior Tracen Ashes crossed the stage to receive his diploma during Roosevelt High School's graduation ceremony in May, he felt not only a sense of pride at his own accomplishments, he also felt surrounded by love, peace and encouragement.
That's because two days earlier, Ashes, a member of the Oglala Lakota Tribe who moved to Sioux Falls from Pine Ridge in 2010, was literally wrapped in love and care as part of the School Falls School District's Honoring Ceremony, a celebration of culture, tradition and achievement for the 90 Native American students who graduated as members of the District's Class of 2022.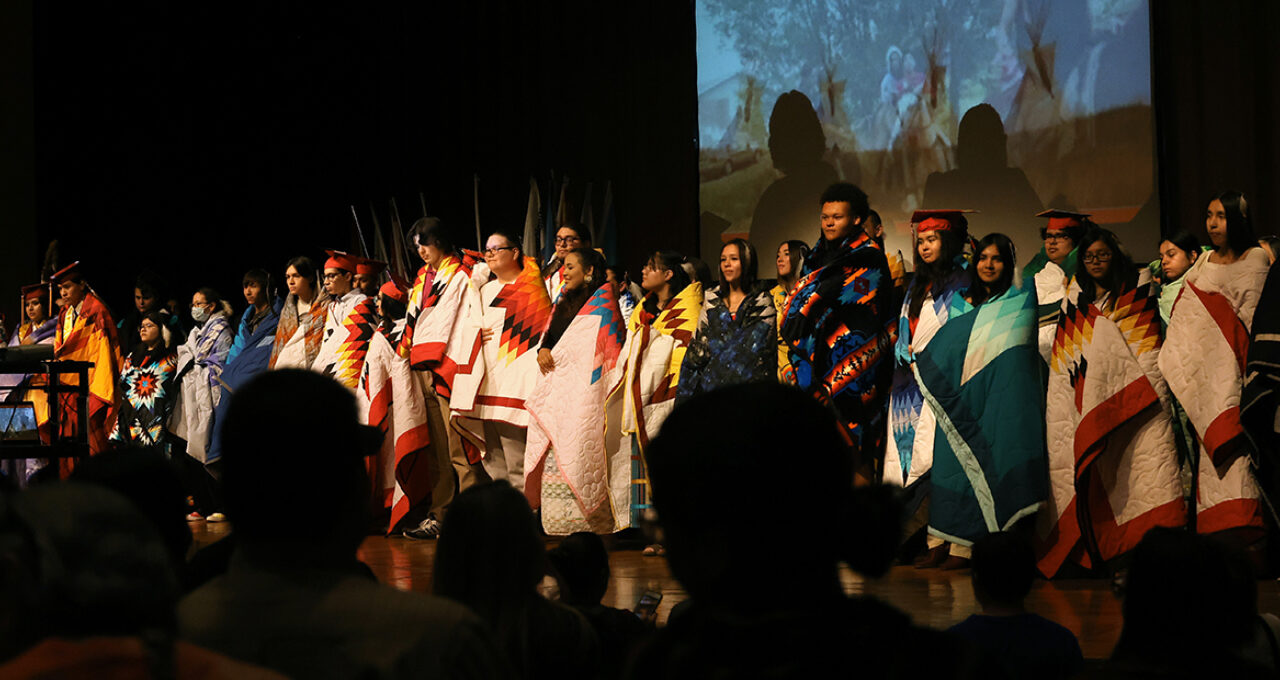 An honor, a blessing and a symbol
During the ceremony, students were wrapped in traditional star quilts and were presented with eagle feathers and plumes. The event, which also featured traditional music and prayers, inspirational messages, and food, was supported by a recent grant from the Sioux Falls Area Community Foundation.

"For me, it's been a huge thing to get to graduation," Ashes said. "I lost my older sister, my niece and my grandfather during my school years. It's been really hard. For me, graduating is my gift to them — I want to show them I'm still here, that I'm where they'd want me to be in life, that I'm still moving forward."
For Ashes, who will attend Augustana University in the fall, the experience of being wrapped in a star quilt by his family during graduation weekend made him feel more connected to his loved ones, and to his culture.
"The ceremony honors the fight and the hard work I put in throughout my years of high school," he said. "Being wrapped in a star quilt is a blessing for doing great deeds, and a symbol to keep going. It's a reminder that I have people that care about me. Receiving one is a huge honor. I think it's amazing that we get to have this."

Star quilts have a long history within Native American culture, said Anna Brokenleg, a teacher on special assignment and an instructional coach for the School District's Office of Indian Education.
"From a historical standpoint, the wrapping of a star quilt is akin to wrapping someone in a buffalo hide. It would've been seen as a great honor and gift to mark important life events," she said. "I think the act of being wrapped in something gives you a sense of comfort, protection and care. And the people who wrap you in a star quilt are important people in your life as well."
Recognizing Achievement, Culture and Traditions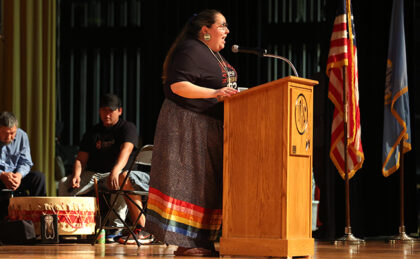 Today, the Sioux Falls School District serves more than 2,200 students who identify as Native American Indian, Alaska Native or more than two races, one of which includes Native American, Brokenleg said. Of those, 1,643 are enrolled members of 40 different federally recognized tribes.
Honoring the achievements of these students in a way that recognizes their culture is important, Brokenleg said.

"When we think about our Native student population, we know these students face a lot of barriers to success that come through no fault of their own — there's a lot of historical and inter-generational trauma related to education. We see high drop-out rates and we see a lack of representation," she said.
"So we honor student achievement and give them encouragement to continue on. Most star quilts are given from families but, sometimes, families are unable to provide the quilts. The Community Foundation grant enabled us to provide quilts to students whose families were unable to provide them."
An additional grant, awarded from the Foundation via the Sioux Falls Arts Council's Micro Grants Program, provided support for a project to sew traditional ribbon skirts for graduating Native American seniors to wear during the ceremony.
Patrick Gale is the Community Foundation's vice president for community investment. He called the Foundation's grants in support of the Honoring Ceremony an investment in the Native American leaders of tomorrow.
Our Native American neighbors have an important culture, a rich history and meaningful traditions that we believe must be recognized, celebrated and cherished. We're proud to support culturally-inclusive efforts like this one that recognize the accomplishments of young people and encourages them to pursue their dreams for the future.

— Patrick Gale, Vice President, Community Investment
The Honoring Ceremony is just one way the Office of Indian Education connects with Native American students across the school district. The Office also helps to provide culturally responsive classes and curriculum that integrate Oceti Sakowin essential understandings and organizes other outreach efforts and events to help build connections and deepen understanding.
"We're always striving to increase opportunities for our Native students to help build healthy cultural community," Brokenleg said. "The more we get kids connected with their culture and their history, the more they can see themselves fitting into the educational system and going on to become other things. Ultimately, our end goal is to help create those community spaces and times and events that bring our families together, to help students be successful in life and in school, and to create awareness and build understanding of the Indigenous people here in our state. We're really grateful for the Community Foundation's support of our work."
Photos by Emily Spartz Weerheim.