Grant Helps Hawthorne Elementary Students Explore the Power of Art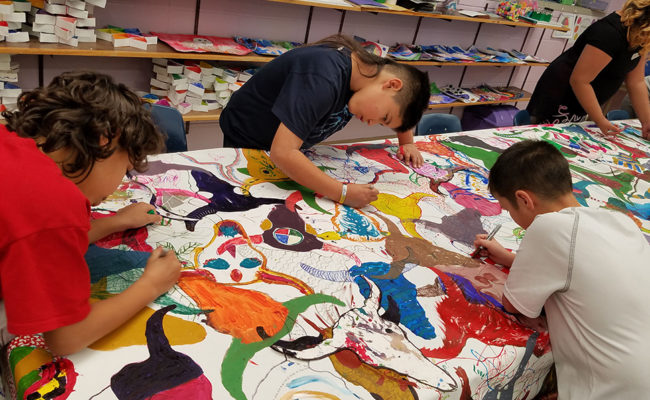 It's officially summer vacation now, but before classes ended for the 2018-19 academic year, fourth and fifth grade Native American students from Hawthorne Elementary had an opportunity to learn from and work with a professional Native American artist thanks to a grant made through a Field-of-Interest Fund held at the Sioux Falls Area Community Foundation.
The grant, made from the Lindsey Ann Masterson Memorial Arts Serving Youth Fund on the recommendation of Tom and Beth Masterson, paved the way for Wade Patton, a well-known contemporary Native American artist from Rapid City, South Dakota, to spend a week at Hawthorne working with aspiring young artists each day after school.
The Impact of Art
Hawthorne Art Teacher Lisa Brunick had been thinking about new ways to inspire and motivate her students when she met Patton at a local art show.
"I was instantly drawn to not only his incredible artwork, but also to his authentic desire to teach his culture through art and, specifically, to share his knowledge and passion with young people," she said.
So last fall, Brunick began to put the wheels in motion. She presented her idea to the Community Foundation and outlined the plan to her students. The excitement was palpable — more than a dozen students signed up to participate in the week-long program.
"The intention was three-fold," Brunick said. "First, we wanted to connect our students with authentic traditional learning through art. Second, we wanted to encourage art as an opportunity for expression and healing. And third, we wanted to inspire and motivate our students to be the best version of themselves — which means being positive about being in school. It makes me proud to say that we achieved these objectives while providing a fun, enjoyable and meaningful experience for every student who participated."
Patrick Gale, vice president, community investment, said the Community Foundation was honored help to support the project.
"Here, we believe that the visual, performing and literary arts are powerful tools that can help us break barriers, form connections, find joy and build community," he said. "To that end, the Community Foundation serves as a catalyst — connecting change-makers like Lisa and the team at Hawthorne Elementary, as well as Artist Wade Patton, with generous visionaries like Tom and Beth Masterson to create good, forever. It makes us very proud, indeed, to have been a part of this special endeavor."