Generations of Generosity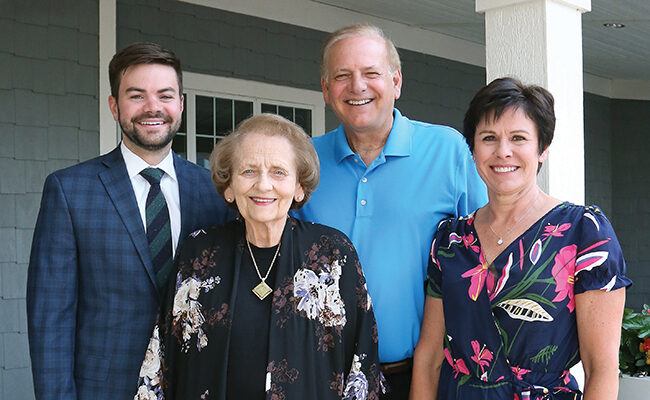 Believing that business and philanthropy can intersect to enhance and enrich our community, the Nyberg family has been giving back to Sioux Falls for more than six decades.
Entrepreneurial, community-minded and charitable, this family believes that when giving thrives, a community thrives.

From our first step, to our first day of school, to our first job, and beyond, our parents are there to show us the way forward. They run behind us — breathless with hope, fear and excitement — teaching us everyday skills, cheering our wins, consoling our losses, and offering endless patience and love until that magical moment when we find our balance, discover our confidence, and pedal off on journeys of our own.
And yet, for all they pass on, perhaps the most valuable lessons we learn from our parents aren't those they intentionally teach us. Rather, it's what they show us — about how to live, love and give — that impacts us the most.
Just ask Kevin Nyberg.
As a kid growing up in Sioux Falls, Nyberg watched his parents, Roy and Rodora, raise a family, build a successful local business, volunteer for important causes, and give back to the city of Sioux Falls in countless ways in partnership with the Community Foundation.
His parents' love for their community, and their hopes and dreams for its future, are what Nyberg says inspires his own family's civic involvement, servant leadership, and charitable giving today.

Intersections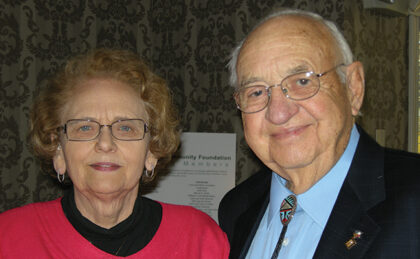 Kevin's father, Roy Nyberg, came from humble beginnings.
Roy's father, Nils, was a Swedish immigrant who worked hard to make a home for his family in International Falls, Minnesota. As a teen, Roy took a job at the local Ace Hardware store before joining the U.S. Army Air Corp and later serving in WWII. After the war, he met and married Rodora and the couple eventually settled in Sioux Falls. In 1957, he purchased an Ace Hardware store here and in 1969, he built the store on the corner of 41st Street and Minnesota Avenue.
His dad, Kevin said, could easily see the intersections between business, community development, and philanthropy.
"Being a local business, you want to embrace the community and Dad did that so well. He was really a visionary for promoting the city and its retail opportunities, and for seeing the possibilities for outdoor recreation along the Big Sioux River," Kevin said.
Roy and Rodora's love for Sioux Falls eventually led the couple to the Sioux Falls Area Community Foundation, where they established charitable funds to help support their favorite local nonprofits.
Giving back, Kevin said, was central to his parents' way of life.
"Giving was always important to them and we really came to understand the importance of the Community Foundation through them," Kevin said. "They definitely instilled in us the impact the Foundation creates here in Sioux Falls."
After Roy's death in 2010, the Nyberg family worked with the Foundation again to create the Roy D. Nyberg Greenway Park, River and Trail System Fund, honoring Roy's many efforts to preserve the River Greenway and expand outdoor recreational opportunities for future generations.

A Legacy of Giving Lives On
Today, as owners of the five Nyberg's Ace stores in Sioux Falls, Kevin and Linda Nyberg are intentional about keeping the family's legacy of giving and care alive.
"As far as giving is concerned, that's always been important for us. Sioux Falls is such a giving community. There's such a spirit of care here and so many people have a real heart for giving. We want to be a part of that," Kevin said.
"As an independent local business owner, I believe in giving back to this city. This community supports our business, and in turn, we want to support the community," he said.
Nyberg's philosophy on giving took on an even greater meaning in the wake of the pandemic.
As the consequences of COVID-19 began to unfold in early 2020, Nyberg's Ace stepped forward to help with major gifts to the One Sioux Falls Fund and the Corona Help Sioux Falls Fund, both held at the Foundation.
In addition to the philanthropic efforts of Nyberg's Ace, Kevin and Linda are also active in their own giving, using their donor advised fund held at the Foundation to support their favorite local charities and causes.
"Donor advised funds at the Community Foundation work well because they offer both immediate tax advantages and the flexibility for donors to recommend grants to their favorite charities from the fund when the time is right," said Mary Kolsrud, vice president for philanthropy. "Donor advised funds really allow donors to develop a more impactful giving strategy over time."

I just believe that if the community does you well, you should give back to the community.

And that's our philosophy at Nyberg's, and within our family.

— Kevin Nyberg
The Next Generation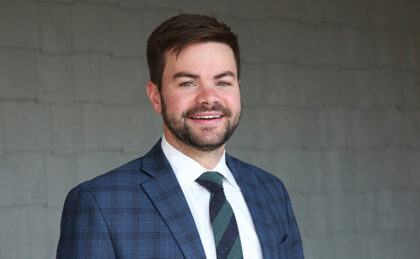 In 2020, the Nyberg family's work with Community Foundation grew by another generation when Erik Nyberg, Kevin and Linda's son, joined one of the Foundation's grants committees.
As a member of the committee, Erik was among those who reviewed proposals and awarded grants from a funding collaborative designed to support organizations and ideas committed to lifting up disadvantaged individuals, families and children in the Sioux Falls area.
The experience has been enlightening, Erik said.
"I've been able to see how the goodwill of individuals throughout this city helps those in need. It's really striking to see the level of generosity this community has and how engaged donors are, not only with the Foundation, but with the city at large," he said.
Given his family's long-time relationship with the Community Foundation, as well as its history of giving and service, Erik said standing up to volunteer for the committee felt like a natural step.
And working with the Foundation, he said, is a chance to join with others who have the same love and passion for the Sioux Falls area.
"My family has always had a close connection and affection for great work the Community Foundation does, and that started with my grandpa and grandma. We continue to support the Foundation and believe in its mission because we know the Foundation has such a great track record for helping those in need and for creating important impact across our area."

I think the mark of a strong community is having individuals who are engaged and want to contribute. By being involved, I feel like I'm doing a small part to make our city a better place.

— Erik Nyberg
Family Philanthropy
Working with the Foundation, the Nybergs said, makes giving easy.
"There are so many advantages to a donor advised fund — the most important of which is that you're giving back to the community," Kevin said. "But second of all, there are significant tax advantages. And the Foundation is so easy to work with."
"It's easy to set up a donor advised fund, the costs are minimal, but the impact is so huge. Plus, it's a big time-saver for us, for sure," he said.
The Nybergs also utilize the Foundation's insights on community needs in making their charitable giving decisions.
"There are so many amazing nonprofits throughout Sioux Falls, and they're all doing such important work," Linda said, explaining how the Foundation helps outline different giving opportunities.
Looking ahead, the couple is exploring ways the Roy D. Nyberg Greenway Park, River and Trail System Fund could further enhance the city's outdoor recreation opportunities.
"Dad was instrumental in creating the vision for the Greenway, and that fund really honors his legacy and creates a way for his vision to live on for generations to come. We want that fund to continue to grow so that someday we can do something really special with it," Kevin said.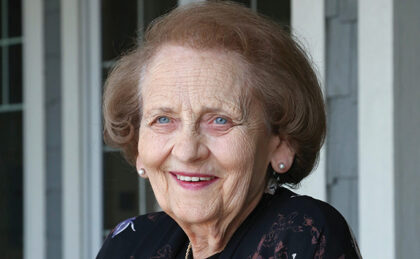 When asked if it makes her proud to see that her family's tradition of giving back has carried on through generations, Rodora said, "absolutely."
The Nyberg family's story, Kolsrud said, illustrates the impact of family philanthropy.
"At its core, philanthropy is about people helping people," she said. "When Roy and Rodora began their charitable giving at the Foundation, they modeled the act of selfless generosity for their children, passed on the importance of giving back to the place you call home, and created a legacy of giving that has benefitted our community for generations over," Kolsrud said. "For those of us who have the privilege of serving at the Community Foundation, it's an honor to work with special families such as the Nybergs to help their charitable wishes for a stronger, more vibrant community come true," Kolsrud said.
Want to learn more about the Community Foundation's family philanthropy services? Call us at 605.336.7055 today.
Related Posts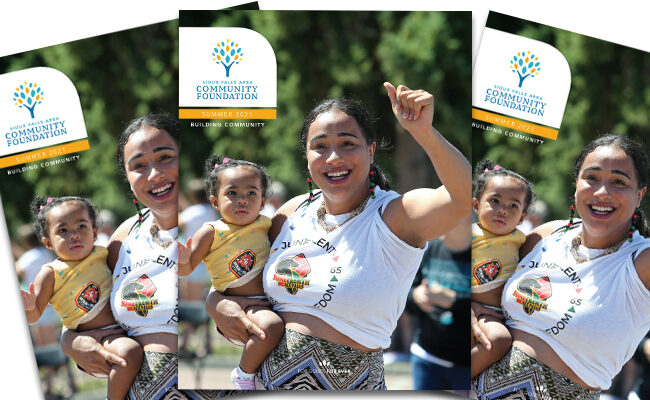 Summer 2021 Newsletter
See our latest newsletter
Read More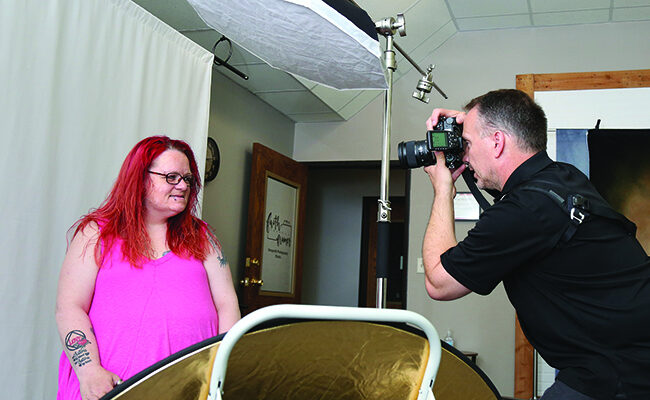 Providing Faith Through Frames
For families who are struggling to cover even the most basic of life's necessities, family portraits just aren't in the cards. And as a result, pages and chapters of their stories remain blank. But today, thanks in part to grant support from the Community Foundation, one photographer is working to change that by offering free portrait photography and photo ID cards, to families and neighbors in need.
Read More