Foundation's Youth Advisory Council Grants $9,000 to Local Nonprofits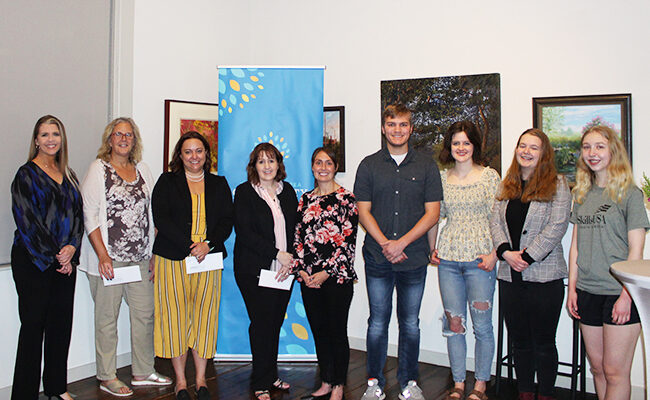 On Thursday, May 20, student members of the Sioux Falls Area Community Foundation's Youth Advisory Council presented $9,000 in grants to three local nonprofits as part of the group's year-end celebration.
Teens from Sioux Falls Roosevelt, Lincoln, Washington and Sioux Falls Christian high schools participated in the 2020-21 Youth Advisory Council, a program designed to provide teens with opportunities to explore and assess the most pressing needs of our community, meet with professionals to raise support for neighborhood causes, and participate in local grantmaking efforts.
The program is facilitated by YouthRoots, a nonprofit dedicated to youth empowerment.
After reviewing community needs, the Youth Advisory Council selected three areas of focus for its 2020-21 season: silent health issues, human trafficking, and abuse and neglect.
The Council presented grants to the following local organizations who, it said, are excelling in their efforts to address these areas:
Call to Freedom, for its work to end human trafficking.
Lutheran Social Services, for its work to help children combat mental health challenges.
Children's Inn, for its work to empower victims of domestic violence, sexual assault and child abuse.
Celebrating 20 Years
This year, the Community Foundation celebrates the 20-year anniversary of the Youth Advisory Council.
Since 2000, more than 300 local teens have participated in the Youth Advisory Council program. In doing so, they built important skills such as critical thinking, analysis and team building. They also developed an understanding of the importance of servant leadership, volunteerism, community engagement and charitable giving.
In celebration of the program's 20-year anniversary, we caught up with some past participants of the Youth Advisory Council to learn how the experience helped shape their lives and influenced their desires to lead, serve and give back to the communities they call home.
Learn more and see reflections from past Youth Advisory Council participants.