Foundation Marks New Milestone: $200 Million in Cumulative Grantmaking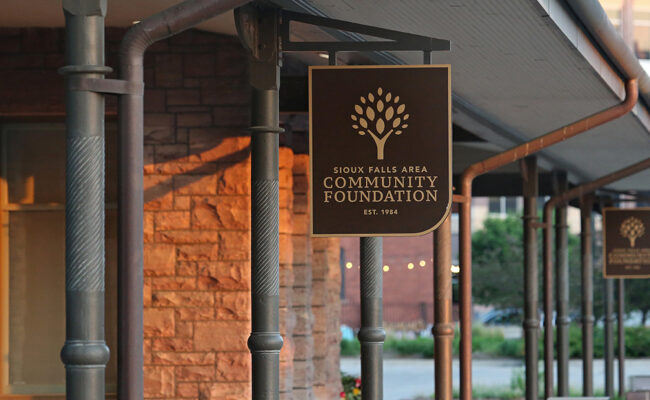 The Sioux Falls Area Community Foundation has reached a major milestone: a record $200 million in grants to area nonprofits and causes since its founding.
The achievement was announced Thursday at the Foundation's annual Donor Reception.
"This grantmaking milestone not only celebrates the spirit of care and remarkable generosity that exists within our community, it also symbolizes the extraordinary level of trust our donors place in us to amplify the impact of their charitable giving," said Andy Patterson, Community Foundation president. "We are thrilled to announce this landmark figure and we are excited to continue our work to spark strategic investments in creative solutions for a better tomorrow."
Standing as a catalyst for good, the Foundation connects visionary donors, nonprofits and civic partners to help drive positive change through philanthropy, said Susie Patrick, chair of the Foundation's Board of Directors.
"In partnership with our donors, the Foundation has helped enhance our area's quality of life by supporting community-based nonprofits working to address critical challenges in education, healthcare, human services, arts and culture, community development, youth and recreation and more," Patrick said. "While we celebrate this milestone, we know there is still more work to do. So we are focused on planning for future investments and are looking ahead to new and innovative ways through which we can harness the power and purpose of philanthropy to create a brighter community where everyone can thrive."
Donors Made Milestone Possible
As one of the state's largest grantmakers, the majority of the Foundation's grantmaking comes from the hundreds of charitable funds it holds for individuals, families and businesses.
Steve and Roxanne Lynch created their donor advised fund to streamline their charitable giving and maximize philanthropic tax advantages. Over the last year, the Lynches have directed grants from their fund to a local church and, most recently, to help families impacted by COVID-19.
"I would recommend the Sioux Falls Area Community Foundation to anyone – it's such a great way to give," Steve Lynch said. "We started our donor advised fund with a sizable contribution that was advantageous at the time from a tax standpoint. From there, we've been able to give to our favorite charities and causes over time when and where it's made sense."
Longtime Sioux Falls business owners Garry and Dianne Jacobson began working with the Foundation in 2012. Over the years, they've involved their family in their philanthropy, creating a tradition of giving through the Garry and Dianne Jacobson Family Foundation, a donor advised endowment fund held at the Community Foundation.
Because of their innovative and consistent philanthropic support, the Jacobsons are recipients of the 2020 Friend of the Foundation award, an honor recognizing those whose philanthropy and spirit of care have positively impacted the Sioux Falls area.
Champions for Positive Change
Powered by the support of donors who believe in its mission and guided by a Community Investment team who works with nonprofits, schools and area leaders to understand and analyze local needs and opportunities, the Foundation helps aspiring nonprofits and ideas that exhibit the potential to create positive change.
One such example is the Foundation's support of Leaders of Tomorrow, a program designed to inspire, shape and nurture emerging leaders by teaching skills such as effective communication and problem solving, while focusing on broader concepts such as self-awareness, self-motivation and the power of influence. Today, more than 100 individuals have completed the program and have gone on to become engaged leaders throughout the city.
The Foundation supported Leaders of Tomorrow through several rounds of grant funding and worked to connect interested donors with the program's leaders to provide additional philanthropic support.
Leaders of the Tomorrow Co-Founder Tamien Dysart said the Foundation's understanding of community needs, its ability to convene dialogue, and its financial support of existing and aspiring nonprofits make it an asset to the area.
"There's no shortage of organizations or causes for us to give our money to. Having an organization who keeps its eyes and ears open to the needs in the community, and can help guide and direct where charitable dollars can have the most impact, that's huge," Dysart said. "I think people want to know that when they give to something, their gift is going to make an impact. At that point, it becomes something far more than a charitable gift or donation. It becomes an investment."
Learn more about the Community Foundation's work in its 2020 Annual Report.