Foundation Awards More Than $54,000 to Local Nonprofits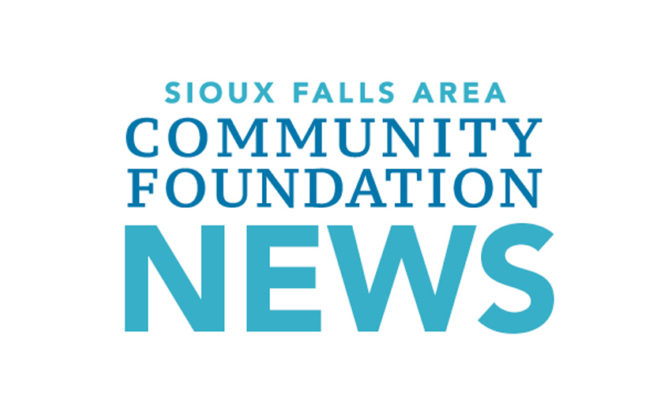 The Sioux Falls Area Community Foundation has announced its latest round of Community Fund grants, totaling more than $54,000 in support for local nonprofits and causes throughout our area from February 2020 – July 2020.
Supported by unrestricted gifts from individuals, families and businesses throughout the area, the Community Fund is the Foundation's most visionary endowment; Community Fund grants are designed to "provide the charitable capital necessary to motivate new ways of thinking about how, together, we can create a stronger more vibrant community," said Patrick Gale, the Foundation's vice president for community investment.
The following organizations are recipients of Community Fund grants from February 2020 – July 2020:
Designed to eliminate the poverty disadvantage for kids in Sioux Falls, Promising Futures supports ideas and endeavors intended to:
Increase a child's educational experience
Increase outside experiences, such as field trips, tours, events, speakers, etc.
Provide inspiration and hope so students can see themselves in a world outside of poverty
Promising Futures focuses on 14 elementary and middle schools throughout the city — schools where at least half of the students qualify for free or reduced lunch.
The Community Foundation grant supports the development of a campaign to broaden awareness of the needs facing Sioux Falls students, 40 percent of whom qualify for free/reduced lunch. The multi-faceted campaign includes fundraising and marketing efforts to grow awareness, grow financial support and increase the number of volunteer mentors — all in an effort to help students reach district reading levels through various reading programs.
Southeastern Directions for Life partners with Minnehaha County to provide substance use and mental health treatment to the participants involved in the following problem solving courts: Drug, DUI, Veterans and Mental Health Court.
These specialty problem solving treatment courts are post-plea and designed to help those battling with addiction or mental health disorders and their related criminal offense.
The goal of these models is to reduce recidivism and decrease the amount of contact that participants may have with the criminal justice system by providing participants with intensive probation, substance use and mental health treatment, vocational support, case management and other life tools.
Court models recognize that changing addictive behavior requires constant vigilance, motivation reinforcement and treatment to prevent relapse and promote change. Incentives are utilized by the courts to help motivate and encourage participants to continue to work hard and participate in their treatment.
The Community Foundation grant will support an incentive program designed to make a positive impact on a participant's motivation and success. Examples of small but meaningful incentives include: applause, acknowledgement from the judge, progression in the court program, decreased court attendance, decreased supervision, a gift card to a local business for food, groceries or hygiene products, bus passes, gas vouchers, etc.
The Advocates for Human Rights investigates and exposes human rights violations, represents immigrants and refugees who are victims of human rights abuses, trains and assists groups that protect human rights, and uses advocacy, research, and education to engage the public, policy makers, and children in human rights work. The Advocates is the primary provider of free legal services for asylum seekers in the Upper Midwest and has over 350 open asylum or asylum related cases.
Because of the coronavirus pandemic, the need for more trained and skilled lawyers in the Sioux Falls area has become urgent. For Sioux Falls area attorneys, this presents a unique opportunity to receive Continuing Legal Education opportunities, extensive case support and resources, including manuals, templates, in-person (as soon as that is again feasible) and web-based trainings from a consulting Advocates attorney.
The Community Foundation grant will support Advocates for Human Rights as it works to recruit local attorneys interested in providing services, provide local community partner and school trainings, provide legal training for volunteer attorneys, conduct case screenings and connect clients with needed help and services.
The Sioux Falls Housing Redevelopment Commission works to provide safe, affordable and nondiscriminatory housing opportunities to the Sioux Falls community. Currently, the Commission serves nearly 2,100 Minnehaha County households and operates six housing programs designed to improve the quality of life for the Sioux Falls community, especially for lower income residents. By actively encouraging self-sufficiency and administering housing assistance payments from the Department of Housing and Urban Development, the Commission provides low-income households with the tools to persevere, achieve independence, and break the cycle of poverty.
The Community Foundation grant will support an initiative by the Commission to develop an online application and database interface, creating more efficiencies and allowing staff to focus on providing more extensive case management to clients.
Lost&Found is dedicated to ending suicide among young adults ages 14-35 in the United States. To accomplish this, Lost&Found's mission is to connect young adults with the skills and community for lifelong resilience, starting with college campuses right here in South Dakota.
Lost&Found meets its mission by delivering mental health education, skill workshops, and peer support through student-led chapters on five college campuses: the University of Sioux Falls, Augustana University, University of South Dakota, South Dakota State University, and Dakota Wesleyan University.
The Community Foundation grant will help Lost&Found enhance existing student mental health programs at the University of Sioux Falls and Augustana University.
At USF, the grant will help implement a strengthened mental health peer advising program, add new advocacy priorities and provide comprehensive evaluation tools to assess campus-wide student mental health needs. At Augustana, the grant willhelp establish a Lost&Found student chapter and provide staff support to evaluate the effectiveness of new student mental health programs.
The mission of the Hazard Film Project is to create and advocate for diversity and inclusion in cinema. As a nonprofit arts organization, the Hazard Film Project believes an effective way to empathize and make progress on community issues is to integrate, educate and make meaningful art together.
The Community Foundation grant supported a free professional workshop hosted by David Buchanan and Doug Lee, an initiative designed to create connections and synergies between white filmmakers and filmmakers of color. The grant will also support the production of a film based in South Dakota employing a diverse cast and crew. The film will seek to explore and provide authentic positive representations of black individuals in the American Midwest to ensure that our community understands the social importance of equity and inclusion in all facets of life. The goal of the film is to bridge ethnic gaps and pave the way for positive social change by telling stories of people of color and lifting up those individuals in our community.