Foundation Awards $152,000 in Community Grants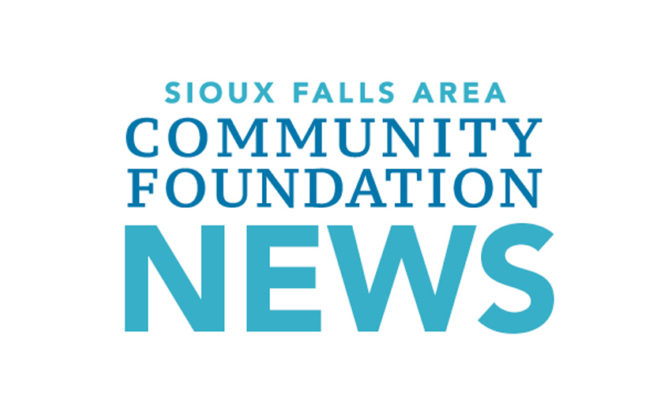 The Sioux Falls Area Community Foundation today announced it has awarded $152,000 in grants to 11 area nonprofits for the first quarter of 2021.
The grants were made possible thanks to the Community Fund, the Foundation's most visionary endowment supported by local donors. Donors who choose to give to the Community Fund entrust the Foundation to award grants based on community needs and opportunities.
"The need for local philanthropy has never been greater throughout our area and thanks to support from our expanding community of donors, the Foundation continues to be able to step forward to meet the growing and emerging needs of the Sioux Falls area," said Patrick Gale, vice president for community investment. "We're so grateful for their support."
"We're proud to announce these newest grantees, each of whom shares our vision for strengthening the fabric of our community and improving the quality of life for all those who call it home," he said.
The following organizations are recipients of Community Foundation grants from January – March 2021:
The mission of the Compass Center is to help navigate the journey to healing for all affected by sexual, relational, and family trauma. The organization provides crisis intervention, counseling and advocacy to children, adolescents and adults (both male and female) who are survivors of domestic/dating violence, sexual assault, child sexual abuse, and human trafficking/sexual exploitation.
The Community Foundation grant will support a pilot initiative called Little Navigators Empowerment Program, a collaborative developed by the Compass Center, EmBe and The SD Parent Connection.
Nationally, 1 in 15 children are exposed to violence in their home. 1 in 4 homes houses an abusive relationship. The goal of this pilot program is to provide a continued and sustainable program for 12 children enrolled in EmBe's childcare center who need specialized intervention to address trauma-related behavioral challenges in order to successfully remain in childcare and ultimately experience greater success in school, at home and in life. Therapists and counselors from the Compass Center will work one-on-one with an EmBe teacher in a specialized classroom each day and each participating child will receive 45 minutes of individual play therapy each week in addition to the group activities.
The SD Parent Connection will also coordinate Parent Classes for parents whose children are enrolled in the pilot program. These classes will provide the parents with strategies and tools to assist them in supporting their child who is experiencing difficult behaviors. If the pilot project is successful, it can be expanded across Sioux Falls and duplicated in other communities. The majority of the Community Foundation's grant will support scholarships for participating students.
This grant supports a multi-phased effort to establish a sustainable tall grass prairie on about 106 acres of retired farmland near the southwestern edge of Good Earth State Park. Subsequent phases of the project envision hiking/walking trails, informational signage, educational initiatives and more.
Founded in 2018, Faith Through Frames offers free framed portraits to families and neighbors in need, as well as photo ID cards, developed in collaboration with Feeding South Dakota, to help individuals access mobile food pantry distributions. In order to reach those most in need, Faith Through Frames partners with Church on the Street and Peace Lutheran Church's Necessities for Neighbors program. To date, Faith Through Frames has captured and shared more than 1,000 portraits.
Currently, photos are taken in a makeshift studio at Peace Lutheran Church, or outdoors when the weather is cooperative. The Community Foundation grant will provide support to Faith Through Frames as the organization expands to a physical facility in order to offer a portrait studio.
The mission of the Hurdle Life Foundation (HLF) is to provide education, motivation and inspiration to life-long learners of all ages and community members in all stages of their lives. The organization works to help individuals and families transition from instability to security to contributing positively in their community and families by providing trauma-informed programs.
The Community Foundation grant will support an HLF mentorship program called CHANGE: Challenging Historically Accepted Notions for Greater Expectations, an effort that seeks to address the substantial need in Sioux Falls for "mentorship in the margins."
Many youth in our community come from families impacted by incarceration. As a result, and without effective role models and mentors, these youth face hurdles in the development of life skills, jobs skills and career identity/exploration. Similar hurdles exist among vulnerable adults in transition from incarceration and homelessness.
The CHANGE program is designed to fill the gaps for these populations in the Sioux Falls area by offering an intensive curriculum designed help participants learn more about the hurdles they face, clear paths in transition, and establish security within their families and community. Goals for participants include higher high school graduation rates for youth, decreased crime and arrests among youth and adults, sustained employment, decreased substance use in both populations, family reunification, community service engagement, and more.
A fully accessible outdoor amphitheater with an open green space on the banks of the Big Sioux River, Levitt at the Falls served more than 68,000 members of our community through 30 free outdoor concerts in its 2019 inaugural season.
In 2020, the pandemic forced Levitt at the Falls to cancel its live season of free concerts however, the organization pivoted its efforts to offer online programming and free, smaller-scale neighborhood concerts for those most impacted by the pandemic.
In 2021, Levitt will return with 40 free outdoor concerts and will build upon its online and neighborhood programming.
The Community Foundation grant will support a new collaboration between Levitt at the Falls and South Dakota Public Broadcasting through which SDPB will co-produce the "Levitt In Your Living Room" digital series. This series will stream year-round and will feature intimate interviews with artists who are a part of the free live concert series, each of whose story and artistry represents a wide variety of cultures, ethnicities, abilities, genders, sexual preferences, ages, and musical genres. This intentional curation of artists celebrates equity, diversity and inclusion essential to Levitt's mission to build community through music.
Providing skill development seminars and awareness programming, Lost&Found facilitates comprehensive suicide prevention programs and strategies for young adults and seeks to raise awareness of critical mental health issues facing campus communities.
The Community Foundation grant will provide support for the development of a Campus Mental Health Score and Policy initiative to help post-secondary institutions throughout South Dakota meet mental health needs and curb suicide risk. The effort brings clarity to the status of a campus mental health systems and service capacity, assesses the strengths of a campus mental health system and identifies areas and actions for continuous improvement, and provides a tool for advising campus leadership when making decisions on mental health policies and services to best serve students.
The mission of the Sioux Empire Community Theatre (SECT) is to provide quality, affordable, volunteer-driven community theatre that's accessible to all residents of greater Sioux Falls.
The Foundation's grant will support SECT as it strives to become the hub for the city's first-ever Arts District, including an effort to re-imagine The Orpheum Theatre, providing more space for artists to collaborate.

The mission of the Sioux Falls Arts Council is to enrich Sioux Falls culture, economy and opportunity by building a stronger and more vibrant arts community. The Council works toward its mission by coordinating among the arts and culture community and cultivating its collective voice, representing the arts and culture sector among civic, business and nonprofit organizations, connecting people to arts experiences, and providing resources to help creatives make performing, visual, literary and musical art.
The Community Foundation grant will provide support for the Arts Council to offer a communication and marketing internship to a qualified student. This position will help promote upcoming arts activities and will help with fundraising efforts.
The mission of the Hope Coalition is to close the opportunity gap in Sioux Falls by helping children of low-income families attend preschool, ensuring they arrive at kindergarten ready to learn. Hope Coalition provides scholarships for students to attend one of 10 participating preschool programs throughout the city.
The value the Hope Coalition provides to our community spans across generations and impacts all sectors of society. Studies have shown preschool is a major influence throughout a child's life. In school, it leads to better grades, higher reading aptitude, and better graduation rates. After school, it leads to meaningful economic and societal benefits.
As the Hope Coalition looks to the future, the Community Foundation grant will provide support to the organization as it embarks on a strategic planning process to help develop solutions for sustainable success and growth.
Founded in 2020, Sioux Falls Stage is a free publication highlighting locally produced theatre, comedy, dance and instrumental and choral music. Each issue features interviews with performing artists, up-and-coming companies and upcoming local events in the space.
The publication's goals are to serve the Sioux Falls community through coverage of locally produced, locally performed and locally curated performing and visual arts, to offer opportunities for local artists to be seen and discovered by new audiences, to help grow the audiences of companies and organizations who have otherwise been hidden gems in our live entertainment spaces, to provide affordable opportunities for arts organizations to additionally market their brands and events, and to bolster interest and participation in the arts throughout the city.
The Community Foundation grant is awarded to the Sioux Falls Arts Council, the fiscal sponsor for Sioux Falls Stage, and will support the quarterly publication of Sioux Falls Stage and its goal to showcase the efforts of our community's most creative minds in the performing-arts space.
Founded more than 50 years ago, Southeast Tech's mission is to educate individuals for dynamic and rewarding careers that promote lifetime success and meet the workforce needs of our region. Today, the College offers more than 50 major fields of study as well as a wide variety of Adult and Continuing Education (credit and noncredit) classes, workshops, and seminars.
The Community Foundation grant will support the second phase of a dynamic initiative called Southeast First, an effort to engage, matriculate, retain and graduate first-generation and underrepresented student populations.
First-generation students are uniquely vulnerable to not starting or completing a postsecondary degree or credential, as many lack the guidance of an immediate family member who has gone through postsecondary education. This comprehensive initiative breaks down those barriers and provides a structured support system to move students to eventual graduation.
The program's goals are to improve student success, adjustment, persistence, retention, graduation and facilitate relationships with alumni and industry partners. The program will feature a strong support platform for students as they learn to navigate college and transition to work.
The initial phase of the program began in 2018, was based in local high schools and was held in collaboration with Avera Health, First PREMIER Bank and the City of Sioux Falls. The second phase will be campus-based and will begin in fall 2021.