Foundation Announces Community Grant Recipients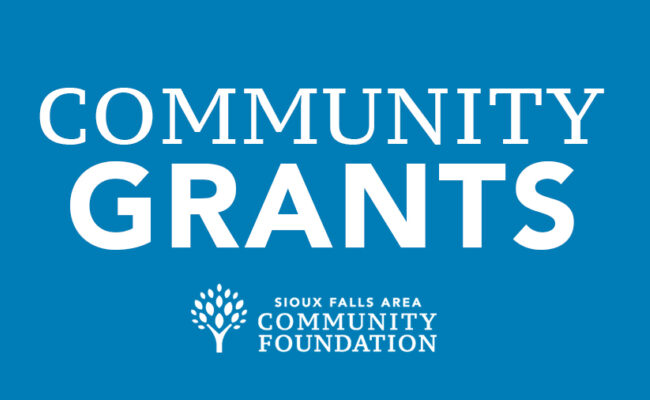 During a time when human services needs are greater than ever, the Sioux Falls Area Community Foundation has awarded grants to seven local nonprofits working to enhance child care, advance mental health, support diverse populations, nurture child development, and build community connectedness.
The grants were made possible thanks to the Community Fund, the endowment behind the Foundation's most visionary grant-making. The Fund is supported by unrestricted gifts from donors who entrust the Foundation to award grants based on community needs and opportunities.
Learn more about the Community Fund grants awarded from August-October 2022:
The mission of the Boys & Girls Clubs of the Sioux Empire is to nurture, educate and enrich the lives of children and youth for lifelong success. Today the organization serves children between the ages of 4 weeks to 18 years old throughout Sioux Falls, Brandon and Harrisburg.
The Community Fund grant will support new technology designed to improve communication and enhance security.
A new, integrated software program will enable parents and teachers to communicate more effectively in real-time across all programs. In addition to improving communication, the new program will offer parents the opportunity to update their contact information, make changes in enrollments, note allergies/medications, sign documents electronically and more, all online. Security technology at seven locations will also be upgraded.
With a mission to improve the lives of individuals with disabilities and their families, the Center for Disabilities partners with state-wide healthcare, education, human service, employment and community-based organizations to advance education, clinical services, interdisciplinary training, technical assistance, research, information dissemination and policies.
The Community Fund grant will support a collaborative art project called "My Story, Our City," an initiative organized by the Center for Disabilities and Health Connect, a consumer health and safety information clearinghouse.
The effort aims tell the story of Sioux Falls through a public art project and while promoting dialogue among all who call the city home. Individuals, families and organizations can paint and contribute a tile which will connect into a large mosaic. Individual pieces will illustrate personal stories and as the tiles connect, the mosaic will reflect the stories that together represent of the makeup of Our City. All submitted tiles will be photographed and posted online, and the final mosaic will be displayed for all to see.
With a mission to offer practical support, understanding and education to those impacted by mental illness, Empire Mental Health Support serves as an advocate for affordable, accessible and effective treatments and works to dispel myths and misperceptions surrounding these conditions.
The organization serves as an active partner of the Suicide Prevention Taskforce and partners with the Sioux Falls Police Department and NAMI SD to provide training to assist officers when responding to someone with a mental illness or substance use crisis.
The Community Fund grant will provide support for the organization's capacity-building efforts, including print and online marketing initiatives to build greater awareness.
Since 2010, Lost&Found has been working to help prevent suicide among teens and young adults across South Dakota by gathering data, assembling information and training volunteers. Over the last decade, more than 750 students across the state have partnered with Lost&Found, either through its advocacy training and peer mentorship programs or as a member of a campus chapter. The organization's Campus Resilience Index, an effort to assess the suicide prevention capacity of college and technical school campuses and their communities, comes at an important time. In 2021, more South Dakotans died by suicide than ever before in recorded history.
The Community Fund grant will provide operational support to help the organization meet surging demands for services.
With a mission to care for, support and strengthen individuals, families and communities, Lutheran Social Services of South Dakota serves people of all ages, races, faiths and income levels through service hubs in Sioux Falls, Watertown, Aberdeen and Rapid City.
In September 2022, the governing boards of Lutheran Social Services (LSS) and the Multi-Cultural Center of Sioux Falls (MCC) approved the integration of MCC programs into LSS operations to further advance efforts to create a welcoming community for refugee, immigrant and Native populations.
The Community Fund grant will provide support for the MCC integration and future outreach efforts to diverse groups to gauge needs, learn opinions and collect feedback.
Established in 2020, the South Dakota Nonprofit Network's mission is to connect, support and elevate nonprofits in South Dakota through collaboration, education and advocacy.
South Dakota's nonprofits employ nearly 15 percent of all workers in the state, however, according to recent research, many nonprofit organizations have unmet needs in areas such as capacity building, facilitation, technical assistance and connection with other organizations.
The Community Fund grant will provide support as the South Dakota Nonprofit Network works to help area nonprofits build greater resiliency and relevancy.
Founded in 2014, the Toy Lending Library creates opportunities for children ages 0-5 to enhance their learning development through play. Families can borrow toy boxes from one of the organization's 15 locations free of charge. After taking the box home and playing with the toys, families can return it and borrow more. In 2022, an average of 488 toy boxes were checked out or renewed each month.
The Community Fund grant will provide support as the Toy Lending Library continues to grow, ensuring its sustainability through the addition of a paid executive director position.