'Experiences Stay in the Heart'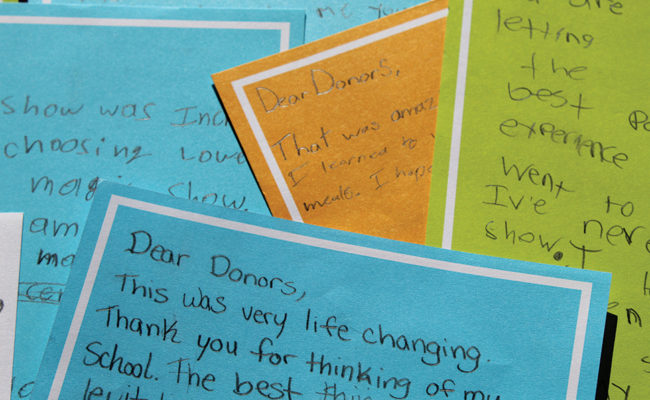 Sometimes the best gifts don't come in brightly wrapped packages or bags filled with tissue paper. Sometimes the best gifts are experiences that change us — moments that spark us to think differently, act more boldly and realize the magic around us.
Such was the case in April, when a group of fifth graders from Lowell Elementary got a gift like no other — an all-expenses-paid day at the Washington Pavilion, thanks to the generosity of one caring and compassionate couple from Sioux Falls.
It was truly a gift like no other. It was, according to one fifth grader named Jynesha, "life-changing."
The Etiquette Experience
For the last six years, the couple, who chose to remain anonymous for this story, have funded a program dubbed the "Etiquette Experience" for elementary school students in Sioux Falls. This year, the program served a fifth grade class from Lowell Elementary, a school located on 18th street, just near the city's center.
To make it happen, each year the couple directs a grant from their donor advised fund, housed at the Community Foundation, to the Washington Pavilion to cover the costs associated with giving one class an unforgettable, day-long experience that includes tickets to a main stage production and a full course lunch. Also included in the experience are lessons from a certified coach who teaches the students valuable communication and social skills such as proper theatre etiquette, tips for fine dining, tableware etiquette and more.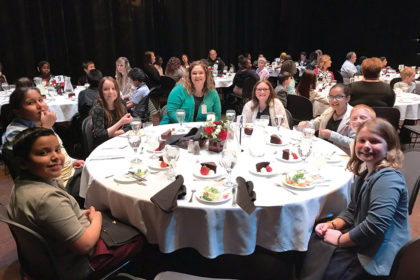 Magic and Memories
Students from Lowell Elementary enjoyed a day to remember at the Washington Pavilion last spring thanks to an anonymous gift.
Kicking off their day dressed in their best button down shirts, neck ties and dresses, Lowell fifth graders were excited as they filled the rows of the Mary W. Sommervold Hall in April to watch the "Science of Magic" show by nationally known magician Bill Blagg.
Following the show, they were joined by members of the Sioux Falls School Board for a full-course lunch featuring house salad, chicken Alfredo, mashed potatoes, green beans, chocolate cake and lemonade in the Pavilion's Schulte Room.
Later, the students wrote notes and letters to the donors, sharing their reflections on the experience.
"You brightened my day," wrote a fifth grader named Chivalry. "I hope I can do something someday like you did for me."
Another fifth grader, Maximiliano, called the day an unforgettable experience.
"Thank you for giving me this opportunity that I will never forget," he wrote, adding that he "loved the dinner because it was good — and fancy."
Fellow classmate, Margaret, said she "thought the whole experience was very elegant."
"Thank you for allowing me to be able to watch that amazing magic show and eat that delicious food," she wrote.
Angel, another fifth grader who participated in the day, expressed his gratitude for the way the experience made him feel.
"The best part of this experience was getting to know that someone cares that much about me and my classroom. I learned that experiences stay in the heart," he wrote.

The donors said it was an honor to support this special day.
"We both come from very humble beginnings and have been blessed through the years. We believe that the arts are for all people and no one should be intimidated by a fancy performance hall or feel excluded in any way. We want to provide an experience at a performance and meal where the students feel comfortable and enabled to handle a new and different experience. We have a strong belief that the greatest gift is the opportunity to find ones' individual success. In order to have a vision of what success can be, you first need to have experiences that allow you to dream … and dream big. Good experiences create confidence to move into other new events with self-assurance. As we move into the future, our dream is to create more experiences for more young people so that they can have dreams and find their success," the donors said.
Etiquette coach Aleta Lindell said the experience will live on in these fifth graders far beyond that one special day in April.
"The magician said 'When we break the laws of science, we create magic,'" Lindell wrote. "These Lowell fifth graders decided they could break the stereotypes people have of kids these days to create magic."
That's a pretty special gift, indeed.