Driving Impact, Changing Lives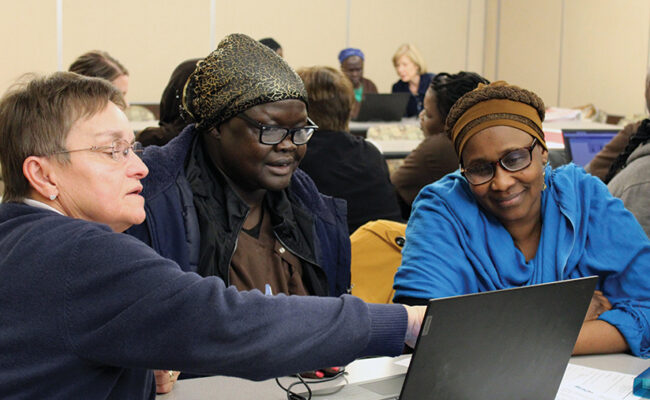 Working toward its mission to help improve the quality of life for individuals and families throughout our area, the Sioux Falls Area Community Foundation regularly awards grants to local nonprofits and causes working to serve those in need.
Often dubbed "charitable capital," these grants are designed to help nonprofits launch new programs, expand existing initiatives and improve their organizational effectiveness. The grants are made possible thanks to unrestricted gifts to the Foundation's Community Fund.
Among the many grants it makes each year, the Initiative Grant is the Foundation's most significant — it is a $50,000 investment in a program that illustrates the promise and potential to address complex challenges, build bridges, advance equity and drive deep and meaningful social impact throughout our area.

The 2020 Initiative Grant recipient is REACH Literacy for its Workplace Academy program.
Absatou's Story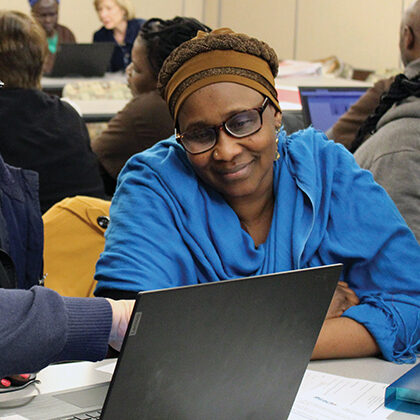 Before coming to the U.S., Absatou Oumarou worked as a teacher in the African country of Chad, helping students learn to read, write and develop important competencies.

While the work was rewarding, life in Chad was challenging. Poverty was widespread and the country's political instability impacted health and social conditions, including access to education.
Wanting a better life for her children, Oumarou made the brave decision to move the U.S.
Since arriving in Sioux Falls, she's found joy in watching her kids adapt to their new home and school while also building their fluency in English.
During her time in the U.S., Oumarou, too, has worked to learn the language. But, learning to speak and read English on her own — while also working full time and raising a family — has been difficult.
Until now.
Earlier this year, Oumarou received an opportunity to build her literacy skills thanks to a Workplace Academy held at Sanford USD Medical Center.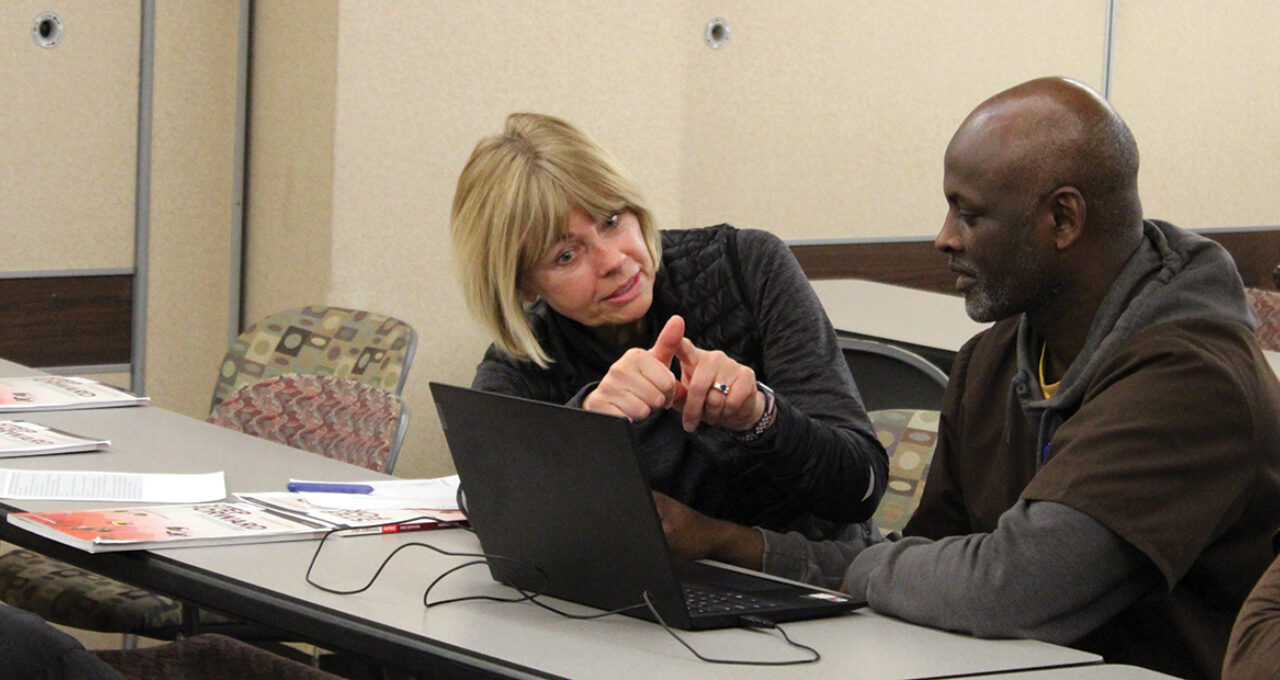 Workplace Academy
Developed by REACH Literacy, the Workplace Academy program pairs tutors with working adults on site at their employer to review and enhance everyday literacy skills. In doing so, the program helps employees build work-related communication skills in a supportive learning environment, paving the way for career and personal growth while helping to address the city's workforce development needs.

For Oumarou, who works as an environmental services technician for Sanford Hospital, the program has been a game-changer. The skills she's learning are not only helping her in her job at Sanford, they're also helping in her life outside of work.
Being able to better understand written communications and verbal instructions at work is improving her performance on the job. At home, Oumarou can now better communicate with her children, allowing her to be the kind of mom she wants to be.
"Now I can even text with my daughter," she said, smiling. "Life is good for me."
Since REACH launched the Workplace Academy program in 2016, the initiative has provided literacy tutoring to 365 individuals on site at their places of employment. Currently, Sanford Health, Avera and Grand Prairie Foods are all partners in the program, which provides 18-26 hours of small group tutoring during each 9-12 week session. Over the course of a year's time, participants can receive between 50-70 hours of individualized instruction.
According to Paige Carda, executive director of REACH Literacy, the impact of the program extends far beyond just tutoring.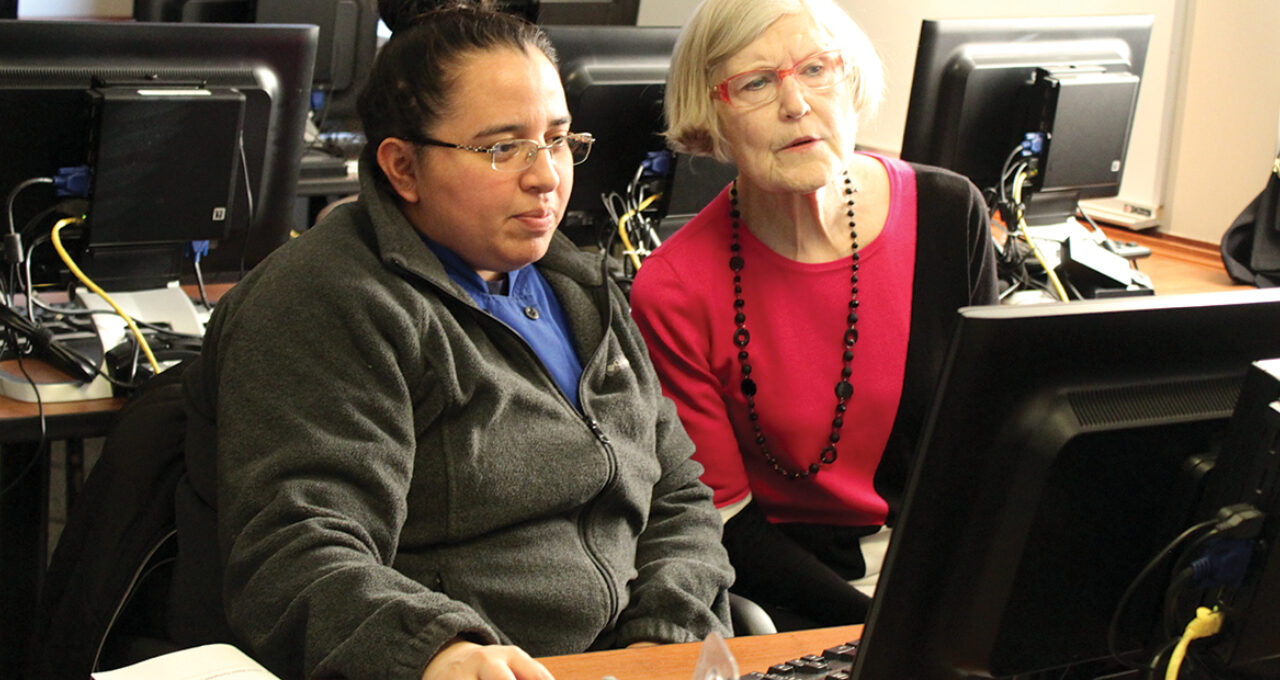 Changing Lives
"If you can get someone to a fourth or fifth grade reading level, that person is reading to learn (rather than learning to read)," Carda said. "For a parent especially, that changes their entire life — and the lives of their family members. They're more likely to participate in conferences at their kids' schools, they're more likely to try for a better job, to vote, to buy a house. The trajectory for that entire family changes."
The success of the program, and the multiple ways it drives social impact, are reasons why REACH Literacy's Workplace Academy program was selected as the recipient of the 2020 Initiative Grant, a $50,000 investment by the Sioux Falls Area Community Foundation.
"As our city grows, so does its workforce demands. It's vital that our community can meet those demands and provide fulfilling job opportunities. That's why this program is so special — it is employees saying they're willing to put in the work, it is employers saying you are valued here, and in the end, our entire community wins," said Patrick Gale, the Foundation's vice president for community investment. "We're incredibly thankful to REACH Literacy for creating this opportunity and we're proud to partner with all the employers who participate in the Workplace Academy program."

How It Works
The mission of REACH Literacy is to provide individualized reading, writing and life skills tutoring to empower adults in the Sioux Falls area to reach their potential. Carda and the REACH team know it's a big and broad mission, which is why they've challenged themselves to think creatively about how to work toward it.
"If you look at the statistics nationwide, one in five English-speaking adults can't read to their kids. In our area, six percent of adults are classified as 'low-literate' — that's 16,000 people," Carda said. "The Workplace Academy program was born because we knew one-to-one tutoring could never make a dent in a number like that. But we also knew that group work and group structures can be successful. So we asked ourselves, 'Can employers be part of the process? Can we meet people where they're at?'"
Brianna Venekamp, a former teacher, serves as REACH's curriculum and assessment coordinator, training qualified tutors on the program's curriculum. Periodic assessments help tutors gauge how well participants are learning.
"This program is successful because it creates a sense of community around participants — when your tutor and your employer are rooting for you, it makes it easier to learn," Carda said.
The program's convenience adds to its success, Carda said. At Sanford USD Medical Center, for example, working shifts often run from 7 a.m. to 3:30 p.m. and from 5 p.m. to 1 a.m. So, the Workplace Academy classes are held from 3:45 to 5 p.m., allowing employees to attend either right after their shift ends, or before it begins.
In Sioux Falls, "the workforce development need is high," Carda said. "Employers want skilled employees and they want their employees to stay. This program improves retention, and for employees, it offers more pathways to promotion."
Tom Malone is the director of environmental services for Sanford USD Medical Center. He oversees 172 full time employees who are responsible for keeping the hospital's rooms and public areas clean. He sees the impact of the Workplace Academy program first-hand.
"When we were approached about this, we were excited to be able to help our employees at work and in their private lives," he said, noting he's witnessed what can happen when an employee's communication skills grow and improve.
"That growth translates to our organization in happier, more functional employees. It also translates to our employees. It's easy to see how past graduates of this program can better communicate in their personal lives — with their families, at their kids' schools and at everyday places like the bank or the grocery store."
'A Place You Can Call'
For Carda and the REACH Literacy team, the Initiative Grant is another illustration of the many ways the Foundation supports local nonprofits.
"The Community Foundation has been with us since the beginning," Carda said. "As a nonprofit, the Community Foundation truly is a place you can call to share your ideas and talk through problems and challenges. It's a place that will listen, provide feedback and help build bridges."
"I can see the Foundation's footprint in so many other nonprofits — especially small nonprofits that may not have donors at the ready. The Foundation is willing to go to bat for us (by connecting donors with causes). We're just really grateful for their support and partnership," she said.