Connecting Donors With Passions at the Arc of Dreams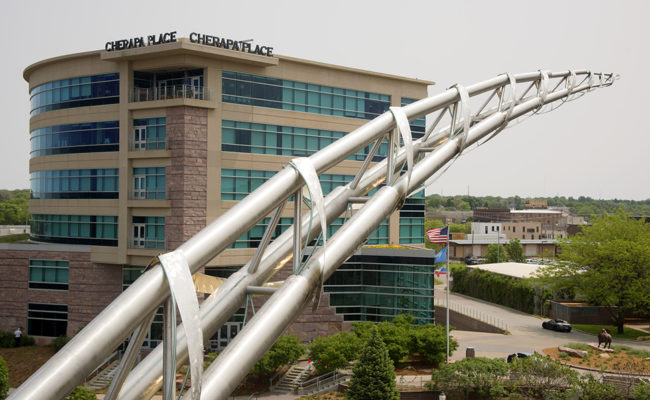 At the Sioux Falls Area Community Foundation, we're often called a catalyst for good. Here, our job is to connect thinkers and dreamers with important causes and ideas, harnessing the power and purpose of philanthropy to help build a better tomorrow.
Central to our mission is the idea that when giving thrives, a community thrives. It's why we're passionate about fostering a culture of giving and care — because we believe that in a thriving community, people and families feel safe, have equal access to the resources they need for their health and well-being, are encouraged to drive bold change through leadership and service, and have opportunities to inspire and be inspired through the arts.
So in that vein, we make it our job to work with local nonprofits and organizations throughout our area to seek out and identify current needs, discover gaps and explore opportunities.
At the same time, we're also working with donors who are passionate about making a difference. We have the honor of learning about their passions, connecting them with nonprofits and causes that align with their interests, and investing and stewarding their gifts — amplifying their generosity to help drive impactful change and build solutions for our community.
So when organizers of the Arc of Dreams approached the Community Foundation to discuss how we might collaborate on this historic endeavor, we jumped at the chance to help connect donors to this important project.
"Here, we often say, 'if you can dream it, we can help make it happen.' We have the amazing opportunity to help facilitate dreams every day. In the case of the Arc, we're blessed to work with donors who are passionate about the arts and donors who are passionate about philanthropy, so it was really special to be able to make these connections in support of this important and meaningful project — one that illustrates the powerful intersection of the arts and philanthropy," said Andy Patterson, president of the Sioux Falls Area Community Foundation.
"Through art," Patterson said, "we find courage and inspiration to think differently, take creative risks, pursue bold ideas and forge new pathways. In doing so, we find common ground and discover meaningful connections."
"And through philanthropy, we give of ourselves to create a stronger, more vibrant community — one where a spirit of giving and care inspires us to develop solutions, break barriers and build bridges toward a brighter tomorrow."
Patterson said the Foundation helped donors offer support for the project through a variety of ways, including facilitating grants from donor advised funds and assisting with transfers of stock gifts.
"As a proud supporter of the arts, it's been an honor for us to help support the Arc, a true illustration of the persistence, hard work and leap of faith thinkers and dreamers, past and present, have taken to make Sioux Falls into the strong and vibrant city it is today," Patterson said.
About the Arc of Dreams
Spanning nearly the length of a football field, the Arc of Dreams was designed by South Dakota Artist Laureate Dale Lamphere.

The massive stainless steel structure was designed to "illustrate and pay tribute to those people who chose to dream and help build our community, and to inspire present and future dreamers to pursue their passions in Sioux Falls."
At the center of the Arc of Dreams is an 18-foot gap, stretching 70 feet above the Big Sioux River, "representing the leap of faith dreamers take to see their dreams come true."
"Given the Arc's proximity to our building, it's really exciting for us to think about the number of new visitors who will visit our neighborhood and be inspired by the Arc and its message," Patterson said.
About the Artist
Over the course of his 47-year career, Dale Lamphere has created more than 60 public monumental sculptures. His work is displayed throughout the nation, from Washington, D.C., to Burbank, California.
"Dignity," his most recent piece prior to the Arc of Dreams, is a 50-foot-tall, 12-ton stainless steel sculpture that stands near the Missouri River in Chamberlain, South Dakota.

Drawing inspiration from the "land and people of the prairie and mountain environment where he lives," Lamphere is widely considered one of today's most innovative artists, incorporating "new materials and technologies into his evocative and elegant sculptures."
A member of the South Dakota Hall of Fame, Lamphere was named the South Dakota Artist Laureate in 2015 by then-Governor Dennis Daugaard, a position that had been vacant since the 1983 death of Oscar Howe, who was given the honor in 1954.
He is the recipient of the Governor's Awards in the Arts for Creative Achievement, is the past president of South Dakotans for the Arts, and serves on the board of directors of Arts South Dakota. Lamphere has also received the Anna Hyatt Huntington Award from the American Artists Professional League in New York.
Arc of Dreams photos above by Paul Schiller.