Community Foundation Mourns the Loss of Former President Sue Brown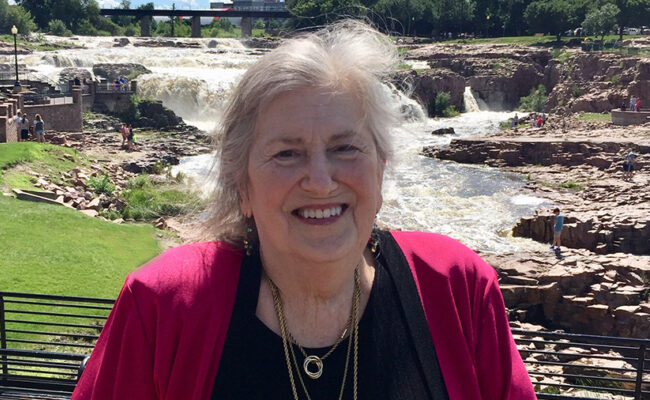 The Sioux Falls Area Community Foundation is mourning the loss of Sue Brown, former president of the Foundation from 1995-2006. Brown passed away peacefully at her home in the Black Hills surrounded by her family on Sunday, May 10, from metastatic breast cancer. She was 74.
As the second president of the Sioux Falls Area Community Foundation, Brown is remembered as an innovative, entrepreneurial and community-minded leader who nurtured a culture of giving and care. During her tenure, she developed a strong infrastructure for both operations and for grantmaking, while also building connections among nonprofits, local philanthropists and civic leaders ⁠— all contributions that helped put the organization on a strong trajectory for growth.
Brown often called the Foundation the place where her passion and professionalism came together.
"The founding Board members had a vision of quality and what this organization could become for the community," Brown once said. "People come through the door because they have a story, a wish, a tragedy, a desire to do something great for the community. It was a privilege to respond to whatever brought them through the door."
For her many contributions, and for her ongoing leadership in philanthropy, Brown was was named the Friend of the Foundation in 2018.

"Sue was an extraordinary leader whose thoughtful and visionary ideas have helped create the vibrant community we all call home today," said Andy Patterson, president. "She was also a treasured friend and mentor to those of us who were privileged to work with her and know her.
"Words can't express how much we will miss her. Our thoughts and prayers are with Sue's family during this difficult time."

About Sue Brown
Sandra Sue Zimmerman was born July 13, 1945, in Fort Bragg, North Carolina to Dr. Gifford and Carol Mathwig Zimmerman. After Giff was discharged from the Army, the family moved to the Zimmerman's home town in Geneseo, Illinois. Sue graduated from Geneseo High School in 1963 and cum laude from Lawrence University in Appleton, Wisconsin in 1967. At Lawrence, Sue was a member of Delta Gamma, Mortar Board Senior Honor Society for scholarship, leadership, and service, and many other organizations and activities. Family friend and fellow Geneseo native Dr. W. O. "Bill" Farber of the University of South Dakota introduced Sue to Richard E. "Dick" Brown on New Year's Eve in 1965 and the couple was married June 17, 1967.
The first five years of Sue's married life were spent in Washington, D. C. where she served for a year as legislative secretary for Congressman Tom Railsback of Illinois and then began a management career as a housing specialist with the U.S. Department of Housing and Urban Development. Sue continued this work when the couple moved to Omaha in 1972. While there, Sue began her role as a mother with the birth of her children Matthew, Terra, and Jennifer.
The family moved to Sioux Falls in 1979, where Sue established a research and community development consulting business. She served on the Boards of many nonprofit organizations in the fields of education, housing, and women's issues including the Sioux Falls Housing and Redevelopment Commission, South Dakota Housing Development Authority, YWCA, Habitat for Humanity, United Way and Volunteers of America. She also served on the Boards of the Sioux Falls Area Chamber of Commerce and Downtown Rotary. She served two terms on the Sioux Falls School Board, worked as a financial services representative for her husband's business and became President/CEO the Sioux Falls Area Community Foundation in 1995. She retired from that position in 2006. Both the School Board and Community Foundation were works that matched Sue's passions, and she considered these opportunities two of the turning points in her life.
Sue and Dick moved to Custer, South Dakota, in 2007 to be closer to their grandchildren. Sue served on the Boards of Custer Rotary, Custer Youth and Alumni Foundation, and the Custer County Planning Commission and briefly on the Board of the Black Hills Area Community Foundation. Sue and Dick formed Brown Associates, LLP and were contracted as South Dakota Parks and Wildlife Foundation Development Directors in 2008. Once again, she regarded work as an extension of her life and her skills.
She received many awards for her community service, including the Dave Birkeland Award for leadership in Sioux Falls, YWCA award for women's leadership, and Volunteers of America Youth Service Award. She was inducted into the South Dakota Hall of Fame in 2008, and was named a Friend of the Sioux Falls Area Community Foundation in 2018. In addition to community service, she enjoyed reading, sewing, fitness activities (she completed many half-marathons), contemplating God's many blessings, and spending time with her family.
While she regarded work as an extension of her life and her skills, she believed her best jobs were that of a wife, mother, and grandmother. She was grateful for her family: her husband, Richard Ellsworth "Dick" Brown; her children – Matthew McCafferty Brown (Dr. Joy Falkenburg) of Custer and their children Nancy Briley, Ryken, and Lincoln Ellsworth; Terra Leigh (David Reynolds II) of Valparaiso, Indiana and their son David III and daughter Catherine Briley; and Jennifer Briley (Mark Holloway) of Minneapolis and their son Ryan Richard and daughter Madeline; and her siblings – sister Terry (Dr. Patrick) Wyffels of East Peoria, Illinois and their son, daughter-in-law, and granddaughter; and brother Gifford R. Zimmerman of Evanston, Illinois and his son and daughter. Living close to Dick's family most of her life, she claimed that family as her own as well. Her parents preceded her in death.
A celebration of Sue's life and legacy will be announced at a future date due to current national health conditions.