Community Advocate Partners With Foundation to Help Create Promising Futures for Local Kids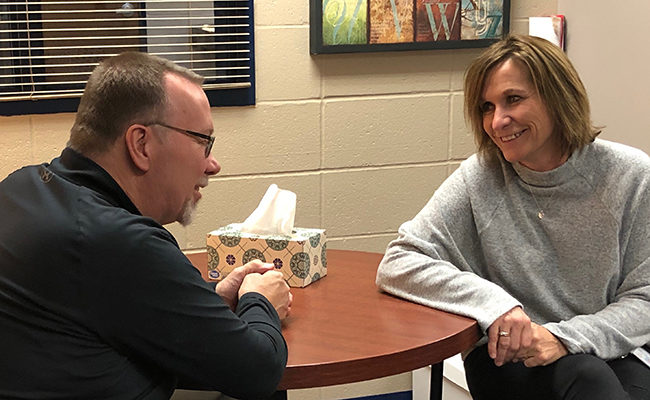 Earlier this year, local business owner Steve Hildebrand announced his plans to rally community support to help eliminate what he calls the "poverty disadvantage" facing thousands of students throughout Sioux Falls.
"When a kid grows up in poverty, hasn't been read to, didn't get the chance to go to preschool, has language barriers, or has little-to-no parental involvement, he or she begins with a big disadvantage," Hildebrand said. "Thousands of kids right here in Sioux Falls start life with the poverty disadvantage. Most end up in Title 1 schools where huge percentages of students from low-income families are placed together."
Hildebrand's goal is to help create promising futures for students in 14 elementary and middle schools throughout the city — schools where at least half of the students qualify for free or reduced lunch.
Since his announcement, community support for his plan has been strong. But when it came time to move his idea from the drawing board into action, Hildebrand realized he had a logistical decision to make.
Rather than starting his own private foundation, Hildebrand chose to utilize the philanthropic expertise of the Sioux Falls Area Community Foundation to establish a donor advised fund, a flexible and strategic giving vehicle designed to help donors simplify and maximize their philanthropy.
"A big priority for us is to make sure the funds we raise are going directly to the schools. We didn't want to create our own 501(c)3 that would force us to hire a staff just to keep us legal and appropriate," Hildebrand said.
Working with the Community Foundation, "we had a terrific relationship," he said. "They were so responsive and we were able to put the fund together quickly and efficiently."
Andy Patterson, president of the Sioux Falls Area Community Foundation, worked with Hildebrand to establish the Promising Futures Fund, a donor advised fund tailored to fit Hildebrand's needs.
"Donor advised funds are great because they operate a lot like a checking or savings account just for charity," Patterson said. "Donors can make tax-deductible contributions to the fund. From there, fund advisors can recommend grants to different nonprofits when the time is right."
Choosing the Right Philanthropic Vehicle
Hildebrand's decision to open a donor advised fund over a private foundation mirrors a growing trend within philanthropy today.
"What we're seeing is that, because private foundations require significant work to establish and maintain, and because they come with important tax implications, people are looking for more simplified options," Patterson said.
"Often times, you'll find a donor advised fund is a more flexible option with the same benefits as a private foundation. Plus, you'll have the advantage of the Foundation's experience and expertise on your side," he said.
Moving Forward
Over the next few months, Hildebrand and a team of volunteers will meet with principals at Lowell Elementary, Terry Redlin Elementary, Hawthorne Elementary, Horace Mann Elementary, Laura B. Anderson Elementary, Hayward Elementary, George McGovern Middle School, Garfield Elementary, Cleveland Elementary, Anne Sullivan Elementary, Whittier Middle School, Rosa Parks Elementary, Laura Wilder Elementary and Susan B. Anthony Elementary.
"Many of these schools don't have PTAs, so we'll be asking principals to visit with their teachers and staff to develop a list of items that we can either fund (through the Promising Futures Fund) or get for them," Hildebrand said.
Distributions from the Promising Futures Fund will support ideas and endeavors intended to increase a child's educational experience; increase outside experiences, such as field trips, tours, events, speakers, etc.; and provide inspiration and hope so students can see themselves in a world outside of poverty.
"We need this community to open their eyes wide to the extreme poverty affecting these great kids," he wrote. "No one asks to be born poor. It wasn't a choice. That's why we have no choice but to help ensure these kids have a chance to catch up, to compete and to excel in life. If we succeed, it means a child succeeds. For our community, that means a citizen moved out of poverty, (kept out of) trouble and added to our workforce."
Patterson agreed.
"This effort is an important one — not only for kids in our community today, but for the strength of our community tomorrow," Patterson said. "We're grateful to Steve for mobilizing this movement and we're honored to offer our expertise in philanthropy to help this endeavor move forward."