Celebrating a Lifetime of Service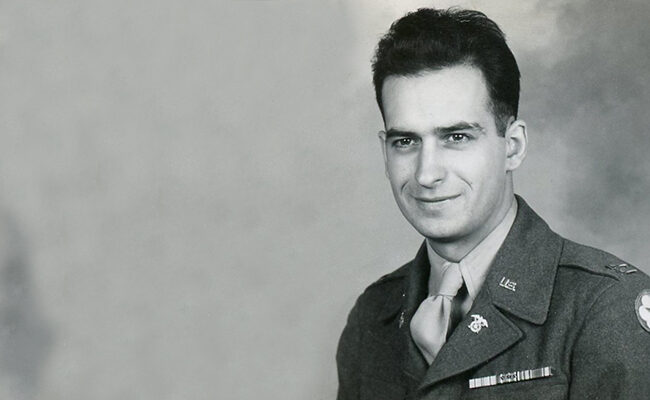 After serving in WWII, Frank Lingo returned to Sioux Falls and spent the better part of the next seven decades serving the community he loved. With a heart of gold and a passion for helping others, he worked with us to establish a planned giving strategy to ensure the organizations he cared about would continue to thrive even after his life. Today, his legacy of care lives on through endowments that provide annual and sustaining support to local nonprofits as well as scholarships for local students.

In the early 50s through the mid-1980s, almost everyone in the Sioux Falls area knew Frank Lingo. From the Chamber of Commerce to the Great Plains Zoo to United Way, Frank's community leadership contributions made him a standout.
The Lingo family's roots in the U.S. run deep. Five Lingo brothers, originally from Wales, arrived in Delaware sometime before the Revolutionary War. Many descendants stayed on the Delmarva Peninsula, but Frank's forebears moved westward, farming in Goshen, Ohio, before making a permanent home in Beloit, Iowa — a few miles southeast of Canton.
That's where Frank's parents, Charles J. and Luella Luenze Lingo, after brief stays in Wolsey and Spink County, made their home and raised their six children. Charles took a job with John Morrell, spending the week in Sioux Falls and returning to his acreage on weekends to farm.
Nila Lingo Fostvedt, Frank's younger sister by 14 years, remembers walking up the railroad tracks to attend Canton High School, from where all the Lingo siblings were graduated. Despite the Depression, between their father's job and the bounty produced from the acreage, "We never went hungry," Nila recalls.
Frank was a good student — so good that he won a $75 scholarship from Sears, which just about covered the tuition at Brookings. Wilbur Bryant, who taught agriculture at Canton High School convinced Frank that planting a few acres of watermelons each spring would be a good way to help pay for college, and it was.
"We had a roadside stand and took orders from grocery stores for the beautiful melons he raised," Nila remembers.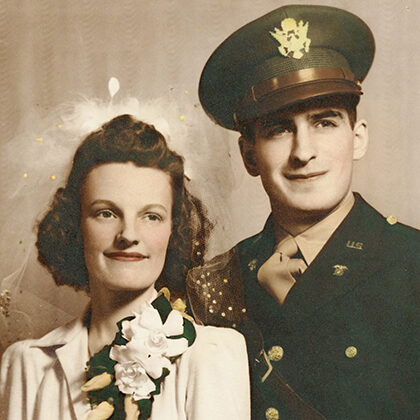 While Frank was growing up in Beloit, his bride to be, Elsie Bartlett, was going to school near Ft. Yates, North Dakota. Her father, Thayer Bartlett, taught school on the Standing Rock Indian Reservation. The couple was destined to meet when they enrolled at South Dakota State College. Both were active in campus life, Frank participating in track and Ag Club, and Elsie, who majored in home economics, serving as secretary to the Women's Athletic Association.
Shortly after graduation in 1942, Frank, a ROTC cadet, was called to active duty. A few months later, on December 17, the two were reunited and married in Medford, Oregon. Elsie returned to South Dakota to teach school while Frank was sent with the Quartermaster Corps to supply the U.S. Army as it made its way across European battlefields after the Normandy Invasion.
With the end of WWII, the couple moved to Sioux Falls, where Frank, as his father and three of his siblings had at one time done, took a position with John Morrell. By 1950, the Lingos had two children, Jay and Pamela. Their family established, Frank made the last piece of his dream come true — buying a nearby acreage where he could hobby farm.
He and Elsie found the perfect property, a house and land just off a dusty, graveled section line in the town of South Sioux Falls, at what is now 41st Street and Hawthorne Avenue. There, Frank planted, gardened, tended sheep, and raised as many as 500 chickens, selling produce and eggs to local grocers.
But farming was what Frank did in his spare time. Dressed in a white lab coat, Frank led the Morrell's community relations effort, escorting rounds of visitors through the plant and serving on countless nonprofit boards.

Dr. Rick Wahlstrom, a colleague who taught animal science at SDSU, remembers Frank's frequent visits to campus as a guest lecturer. From chairing the Sioux Empire Farm Show, to making pork loin sandwiches the featured attraction of Ag Day when he served as president of the Sioux Empire Fair, to organizing golf outings to network with Minnesota pork producers, Frank had a hand in virtually every regional effort to boost pork production.
Frank was to spend his retirement without Elsie, who passed away in 1987 after 45 years of marriage, but he was not alone. He kept house with daughter Pam and enjoyed community activities and traveling with Edith Evans, a special friend.
Frank began planning his legacy gifts in 1997 by endowing the Frank Lingo Scholarship at South Dakota State. The same year, Frank and his sister Viola Lingo Watson — who had traveled to Oregon to witness Elsie and Frank's wedding — shared their charitable dream with the Community Foundation. Remembering fondly their years at Canton High School, each founded a scholarship for graduating seniors. Since then, 58 young scholars have benefited from their generous gifts!
In 2006, while reviewing his estate plans, Frank returned to the Community Foundation with another request — he wanted to establish an endowment that would make annual distributions to several organizations in the name of the Lingo family.
Frank passed away in 2016, having spent the better part of nearly 96 years in service to his community. And, just as he planned, four of the many organizations he served during his lifetime — First United Methodist Church, where the Lingo family worshiped, South Dakota Children's Home Society, the Great Plains Zoo, and Sioux Empire United Way — will benefit from the Frank Lingo Family Endowment — for good, for ever.