Building Artistic Entrepreneurs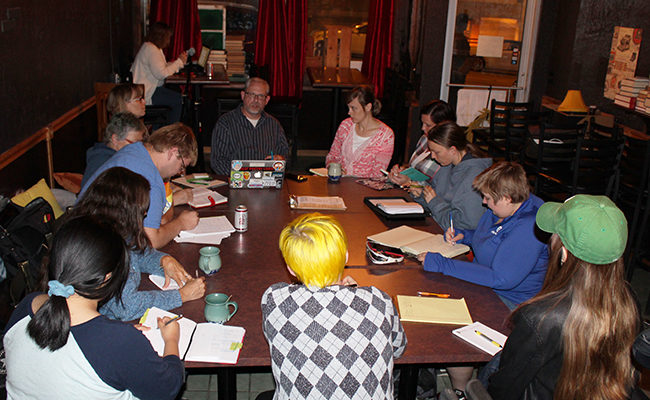 A grant from the Sioux Falls Area Community Foundation is helping local artists learn the business skills they need to transform their creative ideas into entrepreneurial and profitable business models.
The grant supports The Watering Can, a program dedicated to providing business and professional development support for local artists and creatives, including business coaching and strategy courses, as well as a series of educational "Business Basics" workshops.
Claudia Dail, a former business executive, leads the program. The Sioux Falls Arts Council serves as the fiscal sponsor.
"It's our hope to empower artists to succeed in terms of productivity and financial stability — allowing them to pursue their passion and contribute to the vibrancy of our community," Dail said.
Dail said strong attendance among local writers, poets, musicians, videographers, visual artists and more for The Watering Can's two most recent workshops, "Building the Foundation for Your Business" and "Growing My Business, Selling More," (held earlier this fall at the Full Circle Book Coop downtown) illustrates a growing desire among local creatives to learn the skills necessary to turn their passions into viable careers.
In addition to workshops, The Watering Can also offers structured courses and individualized coaching/mentoring sessions for local artists.
Seeing Potential
Throughout her career, Dail has worked for national Fortune 200 companies, as well as smaller firms, serving in business development and sales and marketing roles. She even completed a year-long, formal coaching program.
She said the idea for The Watering Can came to her after speaking to local artists a number of years ago.
"I spoke at Falls Foundry on the topic of 'Artists as Entrepreneurs' and from there I wanted to put together something that was more formal," she said. "That was really the start of a 'business basics' for artists — but I really wanted to provide training for artists; something they could use to develop their launching pad."
Her background and experience, she says, allows her to help build artistic entrepreneurs.
"I realized that one thing creatives really need is coaching and a space where they can talk about issues, build community and learn from together," she said. "There's so much potential out there. Sharing my experience, I can help them see things differently — to see how things can come together (from a strategic, business standpoint)."
Support from the Community Foundation helped The Watering Can offer the workshops earlier this fall (as well as scholarship support for two workshop attendees), as well as a series of three courses for local artists.
"One woman attended a workshop class and followed up via email after to say that the class made a difference for her — she's now launched her own web development business," Dail said.
Dylan Jacobson is a comic artist and past course participant.
"I had a few years of experience before taking Claudia's class however, I never had a grasp on managing myself as both a business and an artist," Jacobson said. "Now, I still refer to Claudia's business course as the catalyst for the career I have today."
Patrick Gale, the Community Foundation's vice president for community investment, called The Watering Can an important resource for local artists and creative minds.
"When creativity is infused into any idea, that idea becomes more colorful, richer and more dynamic," Gale said. "At the Foundation, we're committed to supporting nonprofits, causes and programs that enrich the vibrancy of our community. The Watering Can, and its support of local artists is doing just that. We applaud this effort and we're excited to see its impact on our community in the years ahead."