Breathe Bravely Named 2019 Community Spirit Award Recipient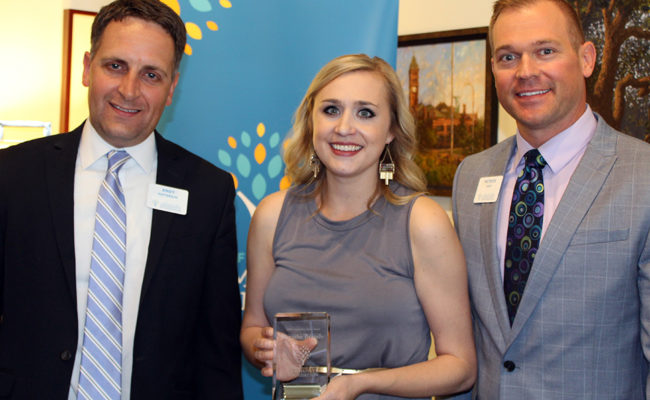 On Thursday, the Sioux Falls Area Community Foundation presented Breathe Bravely with the 2019 Community Spirit Award, celebrating the nonprofit's work to raise awareness for cystic fibrosis (CF) and recognizing its innovative efforts to positively impact those living with the disease.
Working toward its mission to help improve the quality of life for individuals and families in our area, the Community Foundation regularly awards grants to local nonprofits who are doing important work to serve others in need. The Community Spirit Award recognizes one nonprofit who has used its grant to drive change, engage in dialogue and spark new ideas, making an extraordinary impact in the lives of those it serves and in the community we call home.
The award was presented during a reception at the Community Foundation's headquarters, located in the historic Depot at Cherapa Place. Breathe Bravely's founder, Ashley Ballou-Bonnema, accepted the award, which included a commemorative plaque as well as a $5,000 grant to help the organization advance its mission.
How it Began
Breathe Bravely began in 2011 as a personal blog written by Ballou-Bonnema, a 31-year-old musician, teacher, wife and friend striving to get the most out of a life living with cystic fibrosis, a progressive, genetic disease that causes persistent lung infections and limits the ability to breathe over time,
According to the Cystic Fibrosis Foundation, more than 30,000 people are living with cystic fibrosis in the U.S. today and approximately 1,000 new cases of CF are diagnosed each year. CF causes the body to produce a thick, sticky mucus that clogs airways, raises the risk for infection and, ultimately, decreases lung function. In the pancreas, the buildup of mucus prevents the release of digestive enzymes that help the body absorb food and key nutrients, resulting in malnutrition and poor growth. The current life expectancy for someone with CF is only around 40 years old.
While the disease primarily impacts the lungs, research has shown that singing can be a powerful weapon against the effects of CF. Singing can help CF patients increase lung function and enhance breath awareness. At the same time, singing has also been shown to increase the body's endorphin levels, improving mood and mental health.
Taking the Next Step, With Support from the Community Foundation
Passionate about improving the quality of life for those impacted by cystic fibrosis through awareness, education and the sharing of her own journey, Ballou-Bonnema took the steps necessary to transition Breathe Bravely from a blog into an official nonprofit in 2015.
A grant from the Sioux Falls Area Community Foundation helped Breathe Bravely achieve its 501(c)3 nonprofit designation.
In addition, the Foundation also shared Breathe Bravely's story with local philanthropists passionate about making a difference. Inspired by the organization's mission, a number of donors directed grants to Breathe Bravely through their charitable funds held at the Community Foundation.
Expanding its Reach
Committed to giving voice to CF and serving those impacted by the disease, Breath Bravely went on to launch its flagship initiative, sINgSPIRE, a 10-week program designed to combat cystic fibrosis by promoting self-awareness and respiratory strength through the practice of good posture and deep breathing and through the act of singing. Students in the program are paired with sINgSPIRE voice instructors, professional musicians and music teachers who have received specialized training to address the needs of people with CF.
Because CF patients are prone to infections, sINgSPIRE lessons are offered completely online through Zoom Video. Over the program's first eight sessions, sINgSPIRE instructors have taught more than 900 voice lessons to students from 25 states and three countries. Thanks to Breathe Bravely supporters, each students receives a full scholarship for their first 10-week sINgSPIRE session.
Most recently, Breathe Bravely introduced the CF Virtual Choir, a first-of-its-kind endeavor comprised of 14 CF patients from 11 states and two countries, ranging in age from 13 to 39. The Choir's debut song, "Until It's Done," was written and composed by Ballou-Bonnema.
Recognizing Good Work
In presenting the award, Patrick Gale, the Foundation's vice president for community investment, called Breathe Bravely an illustration of the words "community" and "spirit."
"At the Sioux Falls Area Community Foundation, we believe that meaningful and important social impact comes from thinking outside the box, challenging the status quo and having the courage to dream big dreams," Gale said. "The spirit behind Breathe Bravely is rooted in one woman's passion for music, her courage and resilience in the face of challenge, and her dream to not only live her own life to the fullest, but to help others impacted by CF to live their best lives as well. The good work this organization is doing is indeed building community – for those impacted by CF, for those working to find a cure, and for those seeking to understand the disease and its impact."

"When the Foundation awards grants, we consider the idea behind an organization's mission and the passion behind its story. We weigh those factors against existing needs within our community," Gale said. "When we met with Breathe Bravely's organizers in 2015, we immediately saw the potential this organization had to drive real change. So we're especially proud to present Breathe Bravely with the 2019 Community Spirit Award in recognition of the extraordinary impact this organization is making in the lives of those it serves."
Photo above (from left to right): Andy Patterson, president of the Sioux Falls Area Community Foundation, Ashley Ballou-Bonnema, founder of Breathe Bravely, and Patrick Gale, vice president for community investment for the Community Foundation.