After Pandemic Impacts Snack Program for Kids in Need, Great Western Bank, Community Foundation Step Forward to Help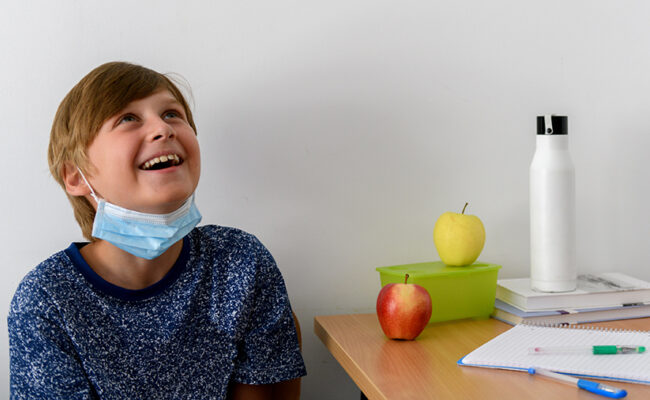 A major gift from Great Western Bank to a fund at the Sioux Falls Area Community Foundation will ensure more than $50,000 is available to help 10 Title 1 elementary schools in Sioux Falls provide healthy snacks to their students each school day.
The schools, all of which serve students from predominantly low income families, have historically participated in a government program through which fresh fruits and vegetables are sold at reduced costs. The schools have purchased that produce to serve as nutritious snacks to their students each school day.
This fall, however, the program changed.
New safety guidelines implemented in the wake of the coronavirus pandemic now require that all school-provided snacks be pre-packaged. The resulting logistical and financial challenges mean that schools are able to provide snacks only on Mondays, Wednesdays and Fridays.
That means no snacks for kids on Tuesdays and Thursdays.
In addition, in an attempt to decrease the number of kids in the lunchroom at the same time, per social distancing recommendations, schools have had to add in more lunch periods throughout the day. As a result, some kids may eat lunch early in the day; while others may eat in the afternoon.
"For a child in need, one could conceive of a situation where his or her family's evening meal is small or even nonexistent. If that child isn't able to get to school in time for breakfast, sadly the only way he or she is receiving proper nourishment is because of school-provided lunches and snacks," said Ryan Boschee, regional president for Great Western Bank.
"With no healthy snacks on Tuesdays and Thursdays, and an adjusted lunch schedule, our kids are going hungry — and that's simply heartbreaking," Boschee said. "We knew we needed to step forward to help. We're proud to be able to support this effort with a $28,000 grant awarded through our Making Life Great grant program."
Patrick Gale, the community foundation's vice president for community investment, agreed.
"Kids in school need energy to concentrate on learning, and that energy comes from proper nourishment," Gale said. "When our bodies experience hunger, our minds are impacted; we can't focus properly focus and concentrating becomes difficult. No child should have to experience that."
Teachers and school administrators also feel the pain of students experiencing hunger.
"We've heard countless stories of teachers and principals from these schools who are paying for snacks for their classrooms out of their own pockets," he said. "Our teachers and administrators already go above and beyond for our kids — that's especially apparent this year. The fact that they're doing this is just another illustration of how much teachers love and care for their students. And, it's another reason the Community Foundation's Grants Committee was so proud to support this project."
In addition to the gift from Great Western Bank, the effort was supported with lead gifts from the Foundation's Community Fund and local donors Dusty and Kathy Miller. The Millers directed a gift to the School Snack Project Fund from a donor advised fund held at the Community Foundation.
This initial support of the School Snack Project Fund will provide money for school snacks until next spring. Proceeds from the Fund will be given to the Sioux Falls School District who will purchase the snacks.