A Case Study in Innovation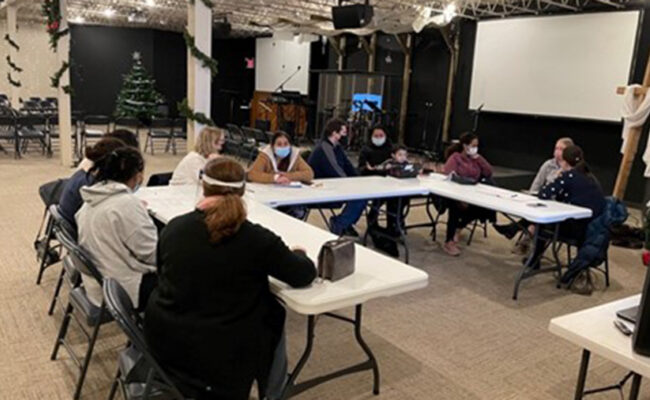 Will a new Sioux Falls Hope Coalition-REACH Literacy collaboration foreshadow a new post-pandemic approach to human services? We think so.

As we look ahead to the end of the pandemic and the ability to return to a sense of normalcy, odds are you've found myself reflecting on what you've learned over the last year. While it's been painful and challenging and scary, if we're being honest, the pandemic has also taught us a lot. Without question, it's taught us how to manage our time; how to be efficient, resourceful and collaborative; and how, if we think outside the box and work together, we can accomplish anything.
Our nonprofit sector is a great example. Since the onset of the pandemic, these organizations have faced curveball after curveball: increased or changing demands for services, fewer volunteers, fewer donations, new health and safety requirements, staffing challenges — the list goes on and on. But time and time again, our nonprofits have adapted with creativity and innovation to meet the challenges before them.
A new collaboration between the Sioux Falls Hope Coalition, a nonprofit that provides free preschool for families in need, and REACH Literacy, an organization dedicated to providing literacy tutoring and resources for adults and kids, is a great example.
Undeterred by the effects of the pandemic on their respective organizations, these two nonprofits are partnering on a collaborative program designed to offer English language and literacy assistance to moms of Hope Coalition students attending Central Church Downtown Preschool.
Launched as a pilot last October, the program began with an initial class of eight women whose native languages include Spanish, Russian, Swahili and Amharic. This class continues to meet twice a week — some classes are in person (for which child care is provided) and other classes are held online.
The results have been nothing short of amazing.

"Developing their literacy and communication skills have helped these moms build confidence. Working together, they now feel a sense of community and have formed friendships among each other. They also feel more secure in reading and speaking to their preschoolers in English, which in turn, is building confidence among the kids," said Paige Carda, REACH Literacy's executive director.
"It's hard enough to learn how to read on your own. If we can create a support system, a community, to make something so challenging a little easier — that's a win-win," she said. "This was an opportunity to offer our services at a place where these women already feel welcome, where they already feel safe. These women know there's a support system in place; they know there are people here working together to help them be successful."
"This is so impactful because it's giving someone a skill that can change their life going forward — knowing how to read and communicate can help people increase their income, can help them work with their kids, and so much more," Carda said.
Collaborating for the Greater Good
Whether at work or in our personal lives, over the last year we've all had to learn new ways of working together. But for REACH and the Hope Coalition, collaboration has always been central to what these nonprofits do.
"As a small organization we know we can't do everything by ourselves," Carda said. "Our goal has always been to have community — community support."
Amy Benda, executive director of the Hope Coalition, agreed.
"Our foundation at Hope Coalition has always been to collaborate with existing programs," she said.
And with each collaboration, lessons are learned, best practices are established and frameworks for the future are built.
"This pilot has definitely impacted how we think about our educational programming. With Zoom, we now know that we can teach from anywhere, which takes some of the pressure off of our volunteers. Going forward, our volunteers can truly act as helpers (because a trained teacher will be able to lead the class either in-person or virtually).
"We see this as a great pilot with some wonderful testimonies as far as success and outcomes," Benda said. "So our intention is that we will take this framework and implement it in the other preschools we partner with."
Two organizations thinking outside the box, collaborating to change lives — and in doing so, impacting the community we all call home. Will this be part of our "new normal" post-pandemic? We think so. And what a great thing that would be!
Want to learn more about how our nonprofits are adapting and responding to our community's changing needs, contact Patrick Gale, vice president, community investment, at 605.336.7055.