Join Us In Celebration
The Sioux Falls Area Community Foundation invites you and your guests to join us for our annual Donor Reception. Held at a new location this year, this special evening will also celebrate the important intersection of art and philanthropy at the opening of ...
Agents of Change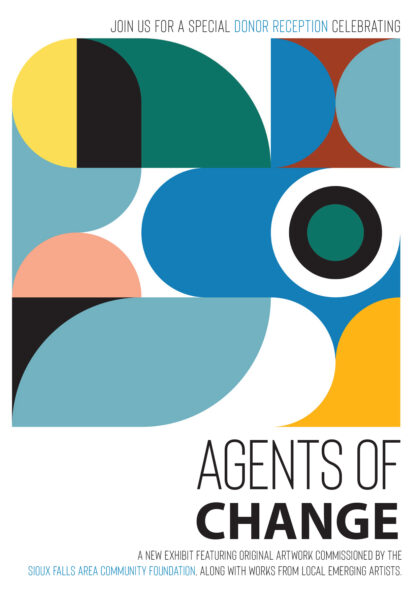 A new exhibit featuring original artwork commissioned by the Community Foundation, along with works from local emerging artists.

Event Details

5-7 p.m. on Thursday, Oct. 15, 2020
Everist Gallery, Washington Pavilion, 301 S. Main Avenue, Downtown Sioux Falls
Featuring
Our 2020 Community Impact Report, an overview of the good work and positive change made possible by our donors in the last year, and the presentation of the 2020 Friend of the Foundation Award, honoring Garry and Dianne Jacobson.
Works from nearly 40 local artists.
Event Notes
Light appetizers and refreshments will be served.
A brief program will begin at 5:45 p.m.
Because we care about your health and safety, please know the 4,800 square-foot Everist Gallery is conducive to social distancing, masks will be encouraged and hand sanitizing stations will be available.
RSVP
Please RSVP by Thursday, Oct. 8. If you have any questions, please contact us at info@sfacf.org or 605.336.7055.
---
Works by the following artists will be on display: Marian Henjum, Paul Schiller, Gary Hartenhoff, Martha Baker, Mary Selvig, Hector Curriel, Chad Mohr, Carl Grupp, Brad Kringen, Mary Groth, Sheila Agee, Susan Schmeichel Harder, Rodger Ellingson, Ceca Cooper, Don Hooper, Jim Sturdevant, Nathan Holman, Nancyjane Huehl, Liz Heeren, Chad Nelson, Dale Lamphere, Amy Jarding, Angela Zonupari, Eli Show, Anna Reich, Cory Knedler, Epiphany Knedler, Cameron Stalheim, Troy Stolen, Michelle St. Vrain, Angelica Mercado Ford, Em Nguyen, Anna Youngers, Travis Hinton, Joe Schaffer, Luke Bryant, Erin Murtha and Dave Lethcoe.