Message From the President 2021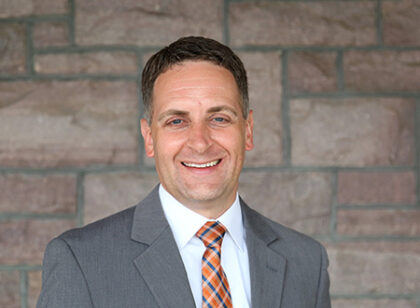 I don't get as much mail as I used to.
Emails? Absolutely, yes — more than ever. But an actual letter? Those have become rare.
However, at fairly regular intervals, a letter from Joe Floyd will land on my desk. Joe, as many of you know, is a tremendously generous individual who has for years used the Foundation to assist with his personal philanthropy.
The purpose of his letters are to initiate grants from his donor advised fund at the Foundation. Many donors recommend grants online or via email, but Joe uses his letters to carefully share details about the organization he's supporting — its successes, challenges and opportunities. He outlines the work he's done to verify the quality of the organization and the reasons he wants to provide support.
On more than one occasion, the Foundation has even followed up with an organization Joe writes about in his letters to learn more and to provide additional support.
Helping donors realize their philanthropic wishes, and collaborating with area nonprofits, civic leaders and community members to help enrich and impact our area is the essence of our mission here at the Community Foundation. Bringing people together to create a brighter tomorrow is at the core of what we do here — and last year, we did a lot of it.
I believe that's because our community's collaborative spirit of giving has never been stronger.
Despite the challenges we've weathered over the last 18 months, there's a widespread desire to do good and push for better that's pulsating throughout our community. You can literally feel the momentum. People love Sioux Falls, and more than ever, they want to step forward to help make this special place even better.
And they're stepping forward with generosity.
In our last fiscal year, we received more than $50 million in gifts to charitable funds held at the Community Foundation. And, we're proud to say that, in partnership with our growing community of donors, during that same timeframe we granted more than $24 million to nonprofits.
We often say that philanthropy is about far more than gifts and assets. At its core, philanthropy is about people helping people. It's about collaborating together for the common good. What a joy it has been to witness how philanthropy is helping to solve some of our community's most complex challenges, while also realizing the opportunities of tomorrow.
Do you have an idea for your charitable giving? Call us. We'd love to help your philanthropic dreams come true.
Andy Patterson
President