Message From the President 2020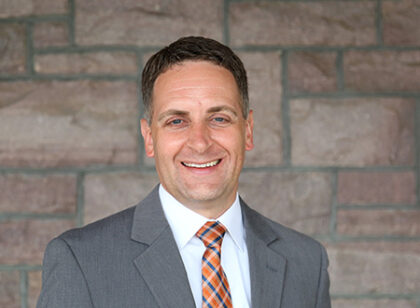 We've long believed that Community Foundations are civic institutions which operate with a dual purpose — to act not only as good stewards of donors' charitable assets, but to also serve the recipients of those assets. In other words, as a Community Foundation, we need to responsibly manage the charitable funds we are entrusted with, and we need to know, understand and respond to the needs of the community those funds support.
I would argue that in the Foundation's 36-year history, there's never been a year where we've been called to understand, respond and adapt to our community's needs more than during our 2019-20 fiscal year.
From the unprecedented loss and uncertainty caused by the coronavirus pandemic to the painful issues of racial injustice that sadly still exist in our society today, over the last 12 months the Sioux Falls Area Community Foundation, in partnership with our donors, has stepped forward to help in extraordinary ways, adapting to develop solutions for a myriad of complex challenges facing our community today.
Emergency funding for front-line nonprofits affected by the pandemic, housing assistance for those impacted by COVID-19, a fund to inspire and develop emerging leaders among our city's diverse populations and grants to support workforce development are just a few examples of our work from our last fiscal year — all of which illustrate the Foundation's commitment to understand the needs of our community, to adapt in response to those needs, and to develop strategic investments and innovative solutions.
That's the beauty of a Community Foundation. Anchored by our deep roots in this area and in our commitment to help create good, forever, we stand ready and willing to help whenever and wherever our community needs it — that means thinking creatively about how philanthropy can fuel momentum during good times, and how it can serve as a catalyst for good during times of great challenge.
We've titled our 2020 annual report "Agents of Change" because we believe that during this moment in time especially, philanthropy can serve as a powerful agent for the kind of positive change our community needs to rebuild, reimagine and move forward.
To that end, we're proud to share stories of agents of change at work in our community today. Individuals, families, businesses and movements whose work to inspire and nurture aspiring leaders, build stronger communities, navigate uncertainty, adapt to change and create meaningful dialogue is strengthened thanks to the power and purpose of philanthropy.
While we celebrate these agents of change throughout our community, we know and understand that the good work we're recognizing from our last fiscal year could not have happened without the support of others who make our work possible.
We express our gratitude and appreciation for past Foundation leadership, including our dear friend Sue Brown, who we lost this year. We're grateful for our Board of Directors, forward-thinking, insightful and entrepreneurial individuals who have led the Foundation before us, as well as those who volunteer their time today to provide leadership and counsel. Our Board has been instrumental in paving the way for the Foundation to respond to the unexpected when the unexpected came.
We also thank our donors — generous, passionate and caring individuals, families and businesses who love this community, who believe in our mission and have joined our movement to create a better, brighter tomorrow through philanthropy. It gives us great pride to share that in the time since our fiscal year closed on June 30 the Foundation, in partnership with our donors, has reached an important milestone — we have now awarded a record $200 million in grants to nonprofits and causes throughout our area. What an amazing and inspiring illustration of the spirit of giving and care that exists here.
On behalf of the Community Foundation, we thank you for your continued investment in the community we all call home and we look forward to partnering with you in new ways in the year ahead as we work to navigate these extraordinary times together.
Sincerely,
Andy Patterson
President