Revitalizing Hayward Park
Join the effort to update and enhance this important park.
Make a gift today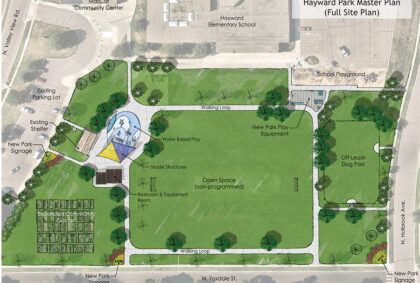 A fund has been established at the Sioux Falls Area Community Foundation to support a proposed project designed to revitalize Hayward Park.

Hayward Park Today
Situated near Hayward Elementary, a title 1 school in western Sioux Falls, Hayward Park serves kids from families whose parents often work multiple jobs to make ends meet.
Many of these kids live in homes without yards to play in, on streets without sidewalks. When they want to spend time outdoors, kids often walk or bike to Hayward Park, which at present offers a picnic shelter, playground equipment and an open field area.

But project organizers see the potential for the space to offer much more — a reimagined park featuring more opportunities for safe and healthy outdoor fun and recreation.
About the Project
Initial revitalization plans envision a spray park, an off-leash dog park, walking loop and expanded community garden.
It's expected that the project will come before the City Council in early spring 2021. If approved, construction could begin in the spring and summer of 2022.
Andy Patterson, president of the Sioux Falls Area Community Foundation, said the project has the potential to drive meaningful and positive impact.
"This park is not only going to enhance the vibrancy of this neighborhood, it's going to create opportunities for our kids to thrive; it's going to connect neighbors over shared interests; and it's going to bring people together in community," Patterson said. "We celebrate the vision for this park and we're excited to do our part to help this important project come to life."
Members of the public are invited to give to the fund. All gifts are tax deductible.